Wanxiang adds sweetener to its push for Fisker assets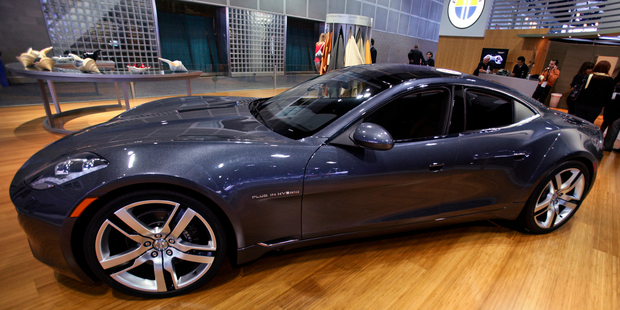 Fisker Karma
A Chinese car-parts conglomerate that wants to buy failed electric-vehicle manufacturer Fisker Automotive says it will build next-generation Fisker cars in Delaware, United States, if there is enough consumer demand.
Wanxiang Group outlined its intentions in a court filing last week as it pushes for a competitive auction of Fisker's remaining assets.
California-based Fisker, which had planned to build cars at the former General Motors plant in Delaware, filed for bankruptcy protection in November. The move ended a long downward spiral that began after Fisker received a US$529 million ($641.8 million) loan commitment from the US Department of Energy (DOE).
Wanxiang indicated in earlier court documents that it wanted to resume production of Fisker's problem-plagued first-generation car, Karma, in Finland and eventually shift production to a Michigan facility.
That dealt a setback to hopes of Delaware officials that cars would be built at the former GM site, where Democratic Governor Jack Markell and Vice-President Joe Biden, Delaware's former senior US Senator, announced with great fanfare in 2009 that Fisker would revive vehicle production.
But in the latest court filing, Wanxiang said it intended not only to resume Karma production, but to continue development and design of a second-generation line of Fisker vehicles. Once such vehicles are ready for mass production "in volumes that necessitate a separate manufacturing facility", Wanxiang means to make them at the now-shuttered GM plant in Wilmington.
Markell, whose administration provided about US$20 million in loans and grants to Fisker to build cars in Delaware, welcomed the news of Wanxiang's intentions.
"The sole purpose of the state's loan and grant was to provide a future for a sector of the Delaware economy hard hit by the recession, so we strongly support any path forward that could lead to that.
"The statement by Wanxiang - a company that employs thousands of Americans in dozens of manufacturing plants across the United States - about utilising the Delaware plant is a positive development," Markell added.
But it remains unclear whether Wanxiang, which recently bought the company that served as Fisker's primary battery supplier after a separate bankruptcy case, will be able to take control of Fisker itself.
Hybrid Technology, owned by Hong Kong billionaire Richard Li, also wants to buy Fisker's remaining assets in bankruptcy. Hybrid recently paid US$25 million for DOE's outstanding loan balance, a loss to US taxpayers of US$139 million.
Hybrid now wants to buy Fisker in a quick, private sale, using a US$75 million credit bid based on its position as Fisker's senior secured lender. Hybrid has indicated that it likely would resell the former GM plant if it is included in an asset sale, suggesting it has no interest in building cars in Delaware.
Fisker's official committee of unsecured creditors, working with Wanxiang, is opposing the Hybrid sale and pressing for a competitive auction starting with a cash bid of US$35.7 million by Wanxiang. Wanxiang's plan is contingent on the court capping Hybrid's credit bid at US$25 million, which would force Hybrid to come up with more cash.
Hybrid has offered about US$2 million in cash to go with its US$75 million credit bid. It also has agreed to waive millions in fees it would be due for serving as Fisker's lender during the bankruptcy. Wanxiang wants to supplant Hybrid as Fisker's "debtor-in-possession" lender.
Markell said he hopes the judge presiding over Fisker's bankruptcy will allow "a fair and full evaluation of all proposals to acquire Fisker's assets".
Fisker's bankruptcy filing came after the company drew US$192 million on the Obama Administration's green-energy loan before DOE officials suspended funding in 2011.
Federal officials suspended the loans after Fisker failed to meet several sales and production milestones for its US$100,000 Karma luxury car.
The Karma's problems included vehicle fires and recalls, problems with battery packs, the bankruptcy of Fisker's primary battery supplier, and inventory losses from Superstorm Sandy, which destroyed hundreds of vehicles at a port in New Jersey.
-AP