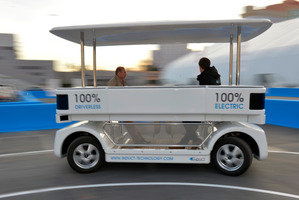 Induct demonstrates their new Navia driverless shuttle at the International Consumer Electronics Show Photo / AP
French company Induct has showed off the first driverless vehicle to be commercially available in the United States.
The Navia shuttle isn't ready for street traffic yet, but this standing-room-only shuttle can take 10 people from point to point on university campuses or in airport parking lots at speeds of 20km/h.
It even charges itself wirelessly.
At US$250,000 ($303,000) per vehicle, it's not likely to make car aficionados overjoyed but it advances the idea of the driverless car with turtle-like practicality.
The shuttle is already being tested on public streets on college campuses in Switzerland, Britain and Singapore, says Induct founder Pierre Lefevre.
-AP