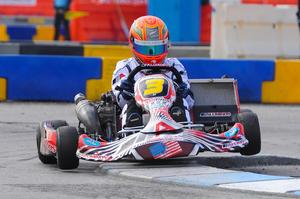 Auckland kart racer Daniel Bray competing in Las Vegas. Photo / Fast Company/Ash Budd
Kiwi kart racers competing in the US had a change of luck last weekend, when the competition moved to gambling capital Las Vegas.
After a bit of a let-down at the Rotax Max Grand Finals meeting in New Orleans where none of our drivers made it out of heats, things improved markedly at the annual SuperKarts USA SuperNationals meeting in Las Vegas.
At the New Orleans event, karters Mathew Kinsman, Stu Marshall and Marcus Armstrong all had to go to their second-chance heats to try to claw back an advantage, but with only six from each heat moving on, the closest the trio got was Masters class competitor Marshall who finished 10th.
A week later things looked completely different when Matthew Hamilton took the top spot in the S4 Masters Stock Moto final.
He was one of nine New Zealand karters racing in this year's SuperNationals meeting and, with compatriots Daniel Bray (S1 Stock Moto) and Marcus Armstrong (S5 Stock Moto) both claiming third place finishes in their respective finals, it equated to three podium finishes over the weekend.
"It took me a couple of sessions to familiarise myself with the 125cc/six-speed Honda MX engines used in the SKUSA classes in the USA," said Hamilton, the reigning New Zealand KZ2 and multiple former sprint class champion.
"I liked the temporary car park-based SuperNationals track and discovered early on that I wasn't too far away from the front-running pace in the S4 Masters class."
Unseasonably cold temperatures and persistent rain put a damper on the meeting, but Hamilton was quick in either the wet or the dry. He qualified first in his group and third overall before winning his three heat races. When the flag dropped, Hamilton didn't get his best start and slipped back to fourth in the winner-takes-all final.
"I bogged down at the start and that let Musser [fellow front row starter] get away a bit, but I got back up to second fairly quickly and chased him down from there.
"The kart was at its best when I caught and passed him and from then I got a bit of a gap, which I was able to hold to the end."
It was Hamilton's first win in the United States and his success was shared by a couple of other Kiwis. Daniel Bray crossed the line third in the first final race of the day to sew up second place in the 2013 SKUSA championship series.
"Whoever won the race won the championship and I had a race-winning kart," said the 26-year-old Bray. "The only thing I got wrong were the tyre pressures. The kart was awesome and in terms of my driving I didn't make any mistakes."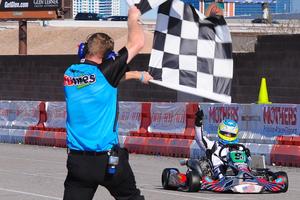 Making up for a weekend to forget in New Orleans, 13-year-old karter Marcus Armstrong was one of the pace setters at the Rotax Grand Final meeting in Las Vegas. Although he wasn't able to emulate Hamilton's success, Armstrong did follow Kyle Kirkwood and Jarred Campbell home to make it on to the podium.
The other Kiwi in the S5 class, Logan Brown, started the final 14th and finished 13th while fellow Aucklander Jordan Morris started the S2 Semi-Pro Stock Moto final 33rd but managed to work his way up to finish 21st.
There were also two other Kiwi drivers contesting the class that Hamilton won. In the S4 Masters Stock Moto, Snow Mooney started the final 14th and finished 17th, and Mark Swetman started 16th and went on to finish 19th.

17th annual SuperKarts USA SuperNationals
S1 Stock Moto
1. Joey Wimsett
2. Nick Nerri
3. Daniel Bray (NZ)
S2 Semi-Pro Stock Moto
1. Connor Wagner
2. Christian Schureman
3. Augie Lerch
21. Jordan Morris (NZ)
S4 Masters Stock Moto
1. Matthew Hamilton (NZ)
2. Jordan Musser
3. Brian Fisher
17. Snow Mooney (NZ)
19. Mark Swetman (NZ)
S5 Stock Moto
1. Kyle Kirkwood
2. Jarred Campbell
3. Marcus Armstrong (NZ)
13. Logan Brown (NZ)