Out-of-favour technology used to extend range, writes Matt Greenop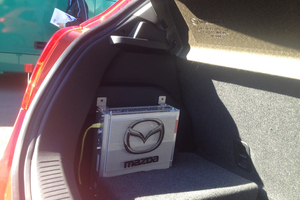 Mazda will continue developing rotary engines for passenger cars, but its latest piece of technology will see the Wankel-derived rotaries used as range extenders for electric vehicles.
On the sidelines of the Tokyo Motor Show, the company revealed a clever electric version of the little Mazda2 hatch, using a 330cc rotary to extend its potential range capability. There are even plans to turn the tiny engine into the power source for mobile generators.
Driven was among the first media in the world to test Mazda's development vehicles, in Yokohama last week, and while it was a relatively short drive (it's still a research machine) it illustrated a seamless and impressively quiet supplement to banks of heavy batteries.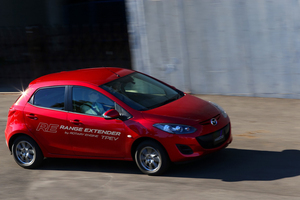 The Mazda2 EV has been on a limited trial in Japan since last year, and response from testers showed great disappointment at the car's limited range, despite the fact few of the drivers covered anywhere near its 100km range between charges.
"People are afraid of running on batteries," explained Takashi Suzuki, of Mazda's Powertrain Development Division. "But they're not usually travelling far. The rotary range extender is a good answer."
The tiny engine fits in the car's boot; in the demo model it was quite visible and ate into space, but this will be integrated more effectively on production models, should it get the sign-off from Mazda bosses.
Suzuki says while the car is still in the concept stage, it looks very promising with its lightweight and relatively high power output - 22kW at a constant 4500rpm and peak of 28kW at about 6000rpm. This also lends it well to the mobile generator application; equivalent diesel versions can cost thousands and weigh up to half a tonne while the rotary version would be the size of a small suitcase and very portable.
Rotary engines have a reputation for thirst, but when run at a constant speed they are quite economical - one of the reasons the RX-8 Renesis engine has been discontinued.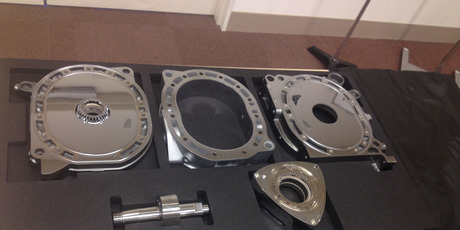 When asked about comments made to Driven by former Mazda president Takashi Yamanouchi at last year's Paris Motor Show, Suzuki confirmed speculation that Mazda was actively continuing development
Yamanouchi had said the main problem with rotaries was the lack of torque and need to rev hard, thus using a lot of fuel. His solution was large displacement engines, far bigger than the 12A, 13B and 20Bs the company has produced over the years. Suzuki confirmed that passenger rotaries were still very much on the table.
"We're still working on developing large rotaries," he said, "but today we are talking only about rotary range extender. But there is advanced development."
The range extender concept isn't exclusive to Mazda; Audi trialled it on the A1 e-tron concept before replacing it with a small petrol version. But after experiencing it in the little hatch, there is definite promise. The car was unexpectedly quick off the line, the electric system providing close to maximum torque from just 500rpm. The little rotor-in-a-box in the boot kicked in a couple of times during the short drive but was almost inaudible, despite being inside the passenger compartment.
Suzuki brushed off maintenance needs like seal and plug replacement for the range extenders, saying they would be almost a bolt-on option that could fit any vehicle. The concept 330cc engine used a nine-litre fuel tank, but this could change to make it suit other vehicles.