Drivers hope mechanical problems of the last few rounds won't decide title in Pukekohe finale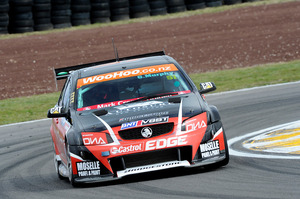 Fans of motorsport should be in for a treat at Pukekohe this weekend for the last round of the V8 SuperTourers season with a number of quality V8 Supercar drivers making the trip to New Zealand.
Among the drivers heading here for the Mike Pero Pukekohe 500 are Shane van Gisbergen, Scott McLaughlin, Lee Holdsworth, Jonathon Webb, Tim Slade, Chaz Mostert and Alex Davison.
Ant Pedersen, driving with Mostert, is leading the series by a narrow 90 points from the hard-charging Greg Murphy who's sharing driver duties with Jack Perkins, with van Gisbergen and Davison a further 281 points back.
"It is the last meeting of the season and we have a slender lead so really we've just got to win," said Pedersen.
"We can leave it to chance if we finish close to Murphy but at the end of the day we can remove all the question marks from the equation if we just win - so that's really the focus."
For someone who is essentially a part-time driver, Pedersen has done an extraordinary job in the International Motorsport car to be leading the series while juggling his job as an accountant - especially down to the wire when you consider the endurance component of the overall series is packed full of useful Aussie peddlers.
"What makes the season so pleasing for me personally is that the series has Greg [Murphy] who's a motor racing legend and Shane [van Gisbergen] and Scott [McLaughlin] who are carving out a reputation for themselves.
"So running with them and beating them, and to lead the championship is all the more satisfying. For them it's a full-time job and when they wake up they think and breathe racing. I'd love it to be my full-time focus but it can't be. I have to pay the bills and I work full-time as an accountant."
Mechanical issues and failures over the last couple of rounds have affected most of the teams up and down pit lane. Pedersen is aware his crew of mechanics and engineers have gone over his car with a fine-tooth comb to ensure everything is as it should be.
"We've only had one DNF so far and that was with an axle. Given the position we're in heading to Pukekohe the guys have been really methodical going over the car," said Pedersen.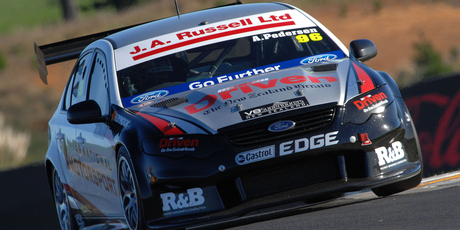 Further up, or down pit lane depending how you look at it, Murphy will be keen to get his second title this year having already clinched the sprint portion of the 2013 series. It has been a few years since Murphy has won a series title despite his four Bathurst wins and a couple of seconds in the V8 Supercars.
Going on his previous performances in a V8 around Pukekohe, Murphy should be the man to watch. In the early days of V8 Supercars racing at Pukekohe, Murphy was the king of the event with a winning record.
"We should go all right there [Pukekohe] but we have had some mixed results at the last two rounds in this series," said Murphy.
"Hampton Downs was a bit hit and miss and we've been hampered by some mechanical issues, which had impacted on our championship aspirations.
"I hope nothing happens at the last round so we can be competitive. If it comes down to the drivers having to do their job that's all I can ask for, but when car problems happen it changes everything.
"With the amount of points on offer there's still room for anything to happen and things can change very quickly."
Murphy and his fellow M3 Racing stable mates, Paul Manuell and Richard Moore, have had a torrid time over the last two rounds with a number of mechanical dramas. All the crews have prepared the cars the best they can for this weekend and it's up to the drivers to affect the results.
"Unfortunately there have been a few parts failures but it's got nothing to do with the design of the car," said Murphy. "You have to be careful that we don't go blaming the car, as at times it could be maintenance issues and team preparation.
"We need as a championship to get on top of a few things and pass on the information to all the teams."
All the teams and drivers are hoping for a better crowd turnout this weekend, as the last two events have been a bit thin on the ground supporter-wise.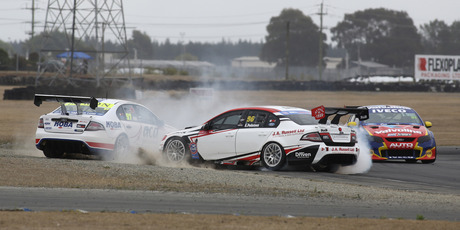 "Fans rocking up to Pukekohe this weekend will be able to see a plethora of great drivers from both sides of the Tasman, and if you can't get to a V8 Supercars' round, this is good opportunity to see some of the stars of the Aussie series on home soil," said Murphy.
"There are some great drivers out there going at it really hard in every race and it's a shame more people aren't turning up to watch. Hopefully with the final round at Pukekohe it'll bring more people out.
"There's a great number of amazing support categories over the weekend and the place has such a great history. The entertainment factor should be great."
There is a 35-lap race on Saturday, followed by two 70-lap races on Sunday.
Point's table
1. Ant Pedersen - 3408
2. Greg Murphy - 3318
3. Shane van Gisbergen - 3037
4. Richard Moore - 2455
5. Daniel Gaunt - 2412
6. Andre Heimgartner - 2104
7. Scott McLaughlin - 2033
8. Paul Manuell - 1871