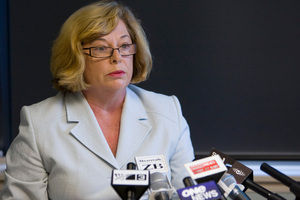 New Zealanders could be in for lower car registration fees and taxes from next year.
The Accident Compensation Corporation (ACC) is recommending a five per cent cut in the levy it charges on motor vehicles, in response to public feedback.
Levies would be reduced for all vehicle owners, with further reductions for the owners of safer vehicles.
It is also recommending a 17 per cent cut in the Work levy and a 15 per cent cut in the Earner levy, to ease business and worker costs.
While the ultimate decision rests with the government, ACC chairwoman Paula Rebstock was confident there will be across-the-board support for lower levies.
She said ACC was in a financial position to reduce levies, with the scheme expected to be back in surplus by 2019.
Bikies are likely to miss out, with Ms Rebstock saying levies on motorbikes cannot be any lower than they already are.
She said car owners pay about 72 per cent of the cost of supporting injured motorcyclists.
If motorcyclists paid the full share of their risk, she said owning and riding a motorcycle would become unaffordable.
But along with lowering ACC levies, Labour said the Government should wind back cuts to entitlements for claimants.
Labour's Iain Lees-Galloway said the corporation should reinstate full entitlements.
"They're turning down far too many claims, and using spurious excuses.
"What we need is a fair system, with levies to be set at a fair rate. We also need to make sure that genuine claims are being accepted, and that people are getting the compensation that is owed to them."