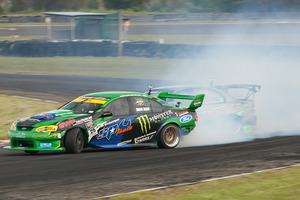 Things can happen pretty quickly in the motoring world - and this wee comp is no exception.
Here it is, your chance to learn how to do the ultimate burnout from the master, V8 Supercar and SuperTourer ace Shane van Gisbergen.
The catch is that it's all happening this Monday, so we'll be picking a winner on Sunday afternoon and the winner will have to get to Hampton Downs on time to have some burnout fun with the Giz.
That's right. In association with the Cody's D1NZ National Drifting Championship, Driven is giving YOU the chance to get behind the wheel of New Zealand's ultimate burnout machine, the Federal Tyres-backed V8-engined Ford Falcon they call "The Rattla", and learn the basics of the burnout with the drivers who will share the car at Hampton Downs next weekend, Shane Allen and Van Gisbergen.
This season, the two Shanes will be sharing "The Rattla" at all six rounds of the 2013/14 Cody's D1NZ National Drifting Championship.
For your once-in-a-lifetime chance to say you smoked the Federal bags too, all you have to do is like us on Facebook at www.facebook.com/DrivenNZ and comment on this photo. The winner will be messaged on Sunday.