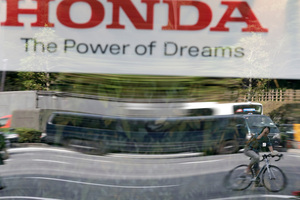 Honda's quarterly profit rose 46 per cent in the latest quarter as higher car sales in the US and motorcycle shipments to Asia offset costs from plant openings.
Revenue rose 27 per cent in the July to September quarter to 2.89 trillion ($33.82 billion), with net income at 120.3 billion, the Tokyo-based company said yesterday.
Honda maintained most of its forecasts for the fiscal year ending in March, though it cut its target for motorcycle sales to 17.3 million units from 17.4 million.
Honda's net profit in the first half of the fiscal year rose 13.5 per cent from a year earlier to 242.8 billion on 5.7 trillion in sales.
Japanese carmakers have seen their profits surge in yen terms as the Japanese currency has weakened against the US greenback.
While Honda's car sales inside Japan fell 22 per cent in the first half of the fiscal year, its sales overseas rose 8 per cent to 1.72 million vehicles, pushing its total sales for the first half to a record 2.1 million vehicles.
The company's biggest growth in sales was in the US and parts of Asia, including China, while sales fell in Europe.
Mitsubishi Motors reported that its net profit surged 55 per cent to 47 billion from April to September, helped by cost cuts and a weaker yen.
Mitsubishi recently raised its profit forecast for the year and expects earnings to jump 84 per cent.
It forecasts sales volume to rise 13 per cent from the previous year to 1.1 million vehicles, despite a 27 per cent drop in sales in Thailand.
The company said the release of two minicars, the eK Wagon and eK Custom, helped boost sales.
-AP