Comedian will ensure event tickles your funny bone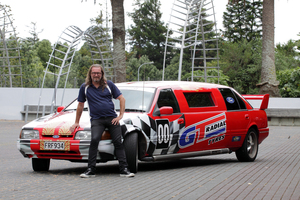 Comedian Ewen Gilmour will be guest MC at the Show 'n' Go car and bike fundraising event for the children's charity Variety at Hampton Downs tomorrow.
Gilmour will be at the GT Radial-sponsored event in the role of presenter and giving out prizes.
Show 'n' Go will offer participants the chance to display their cars, drive controlled laps of the Hampton Downs race track and watch the Thoroughbred and Classic Cars Owners Club compete on the track with all proceeds going to the children's charity.
The event will start at Bellagio Cafe on Plunket Ave, Manukau, at 9.30am where a cruise for registered participants will take place. Then all cars will head out in convoy to Hampton Downs south of Auckland for a Show 'n' Shine at 10am.
The day's activities will run until about 2pm, when Gilmour will hand out the prizes and enjoy some socialising with the public.
Registration is $20 per car including driver and one passenger. Additional passengers are $5 each and motorbikes are $10, which covers bike and rider.
Organisers are asking that people bring cash as there is no Eftpos available at Hampton Downs.
Spectators are welcome to the event and admission for them will be a gold coin donation.