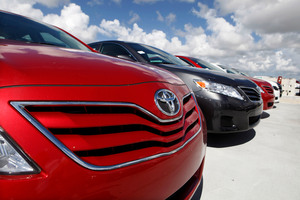 Toyota is recalling more than 800,000 vehicles in the US because their airbags or power steering could stop working.
The Camry and Camry hybrid, Avalon and Avalon hybrid and Venza from the 2012 and 2013 model years are affected.
Toyota says water from the air-conditioning condenser can leak on to the air bag control module and cause a short circuit. That could illuminate the airbag warning light, disable the airbag or cause the airbags to deploy inadvertently.
The power steering assist function could also become inoperable if the airbag control module is damaged, making the vehicles harder to steer.
Toyota knows of two minor injuries related to the defect. Dealers will repair the problem free.
-AP