Mechanical problems take their toll at Hampton Downs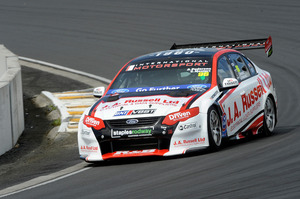 International motorsport driver Ant Pedersen has his nose in front in the V8 SuperTourers series with one round to go after a successful weekend at Hampton Downs.
Pedersen, and endurance co-driver Australian V8 Supercars pilot Chaz Mostert, won the round to leapfrog Greg Murphy in the race for the title to be decided at Pukekohe from November 29-December 1.
The pair won the final leg of the three-race weekend after solid seconds in races one and two by being free from the mechanical woes afflicting many of the other teams.
"It feels really good to come out on top and the boys gave us a really good car," said Pedersen.
"With such a good car, it was up to Chaz and me to get the job done.
"I had to push hard and get a bit of a lead to hand over to Chaz because we've had a few shockers during the pit stops.
"Chaz drove a faultless race that put us well into contention to get the win."
Mostert quipped: "He got the gap, I just had to maintain it."
Pedersen now leads the championship by 90 points from Murphy, who started the meeting leading the series.
He and Australian co-driver Jack Perkins won the first race, came second in the final race but only managed 10th in race two after a power steering failure.
"It was horrible, incredibly difficult. I had to have two hands on one side to turn the wheel," said Murphy.
"We're not as quick as the car in front and there are too many failures, we're losing too many points. We're throwing it [the series] away at the moment because we're not finishing where we should through mechanical failures.
"It's pretty frustrating and, on top of that, we didn't have the car speed. Our sister car is much quicker and we spent all weekend trying replicate that, but couldn't manage it.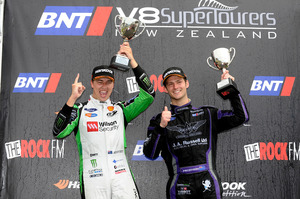 "From a fans' point of view, it's great it's tight at the top of the table but, from a driver's point of view, I'd like the series to be over now [Murphy would have liked to have enough points in the bag to not worry about the last round]."
Aucklander Richard Moore and Australian co-driver Tim Slade won leg two, helping to make up for the disappointment of losing a big lead in race one when their gearbox failed.
It was a breakthrough first victory in BNT V8 SuperTourers and the pair backed up the win with a strong run in the final race to finish third.
"It's been a massive high this weekend but also tinged with a bit of disappointment. We lost two races this weekend we should have won," said Moore.
"We had the first race won until the gearbox problem and then it wouldn't go into neutral in the last race pit stop.
"I'm really disappointed, that's the second time this meeting we've lost a chance of winning because of the gearbox - just another day driving a SuperTourer.
"But that's motorsport I suppose. I'll reflect later and realise it was a pretty good weekend and look at how well I stacked up against the V8 Supercars drivers."
Shane van Gisbergen remains third in the championship but lost ground to the leaders as his car was not handling well in the corners and, in leg two, his co-driver, Alex Davison, lost several places when he overshot a corner.
Things weren't much better in race three when Van Gisbergen also had a power steering failure that hampered his progress through the field.
Paul Manuell was eyeing his first victory at this level in race two when Australian co-driver and former Bathurst winner Nick Percat built up a good lead during his opening stint in their Holden.
But a safety car period caused most of the cars to come into the pits all together and Manuell found himself boxed in by Matt Lockwood unable to get into the pit area properly.
"I had to wait for six or seven seconds - it felt like minutes," said Manuell.

V8 SuperTourer leaders
1. Ant Pedersen: 3408
2. Greg Murphy: 3318
3. Shane Van Gisbergen: 3037
4. Richard Moore: 2455
5. Daniel Gaunt: 2412
6. Andre Heimgartner: 2104
7. Scott McLaughlin: 2033
8. Paul Manuell: 1871