Jacqui Madelin finds different strokes for different folks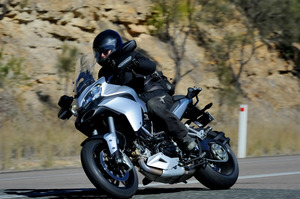 Swapping from the laid-back lightweight Ducati Diavel Strada's cruisy take on touring to the sky-high Ducati Multistrada, I realised there clearly is more than one way to skin a cat. For both delivered a capaciously comfy pew that'd cosset your buttocks for long hours on the road and delight your ears with the familiarly aggressive Italian soundtrack as well as carry your kit with room to spare.
But there are two quite distinct flavours here. The Diavel sports the overtly muscular looks of an upper-class nightclub bouncer, while the Multistrada prefers to advertise the strengths underlined by that name - it's an any-roads tourer with dual-purpose lines aimed at suggesting a more daring lifestyle.
I have to say it's more my cup of tea, my holidays are as likely to include the scree slopes of the South Island's Rainbow Road as any tarmac tour. Its $28,490 price includes big-name kit from Brembo and Ohlins, and electronic modes that allow for riders of different sizes, so you can set the default to your own weight and it'll work the rest out from there - unlike some of the opposition, which assume an average 80kg rider.
Changing modes is easy to manage from the rider seat, and they include an enduro option, although owners will be unlikely to take this bike too far into the Kiwi rough.
They'll be too busy tucked behind the efficient screen, which alongside the bike's ergonomics got a tune-up to increase the range of rider-size likely to be comfy aboard it.
This 1198cc, 110.3kW, 124.5Nm Testastretta motor is developed from the sports donk, but tuned for smoother delivery at low rpm, more grunt off the line and the benefits of a slipper clutch. That longer-travel suspension made this the obvious choice for the bumpier surfaces of our rural Australian ride.
It swallowed even the most lurid of lumps and holes, leaning eagerly into bends to let whichever journo was aboard keep right up the tailpipe of the theoretically racier Panigale and Monster simply by virtue of the fact it could ignore the ripples and just get on with the job.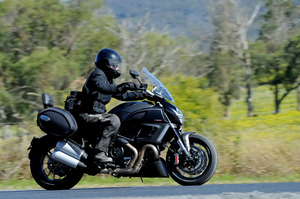 Meanwhile, the $33,990 Diavel Strada wasn't too far behind despite the more relaxed stance mandated by those swept-back bars and the laidback armchair-cowboy stance its geometry mandates. The Diavel is a muscle bike as much as a cruiser, with the same basic 1198cc motor here with 119kW and 127.5Nm, and that sinuous tangle of twin pipes. But this Strada variant has long-distance cruising in mind - hence the effective touring screen, the handlebars set 15mm higher, swept back another 60mm and finished off by heated grips, the all-day-comfy touring seat and passenger backrest, the 41 litres of luggage space and revisions to the lights and passenger footpegs. It even has an "enhanced generator" to deliver juice to two power sockets - heated vest and cellphone? Not sure, we were too busy riding to try them out.
I rather liked it; the Diavel Strada wasn't the ideal mount for the twistier roads we traversed, which were better suited to a nimbler format - although the way this relatively lightweight 239kg Duke pulls out of corners as all that torque hits the fat, 240-section rear Pirelli Diablo Rosso tyre will give you an ear-to-ear grin. No, it was those bars that suited me, for although I prefer a flatter sweep for better cornering control, the standard Diavel set is a bit of a stretch for my relatively attenuated height.
But either of this pair will make a superb cruiser for anyone seeking Italian flavour; the Diavel for highways and byways, the Multistrada for those preferring to take the road less travelled.