Internet tycoon throws his weight behind NZ's biggest annual tarmac rally.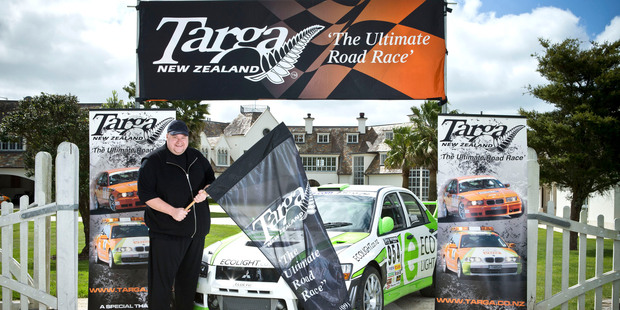 Say what you like about Kim Dotcom, there's no doubt that when it comes to cars, he's one of us.
The internet squillionaire has proven to be a keen backer of all things Kiwi - a nice contrast from the Twain-esque approach of "let me buy your land, now go away".
Dotcom - who lives and breathes AMG - has thrown open the gates of the palatial Dotcom Mansion to host Targa New Zealand, the country's biggest annual tarmac rally, when the go flag drops on the 19th running of the event on October 31.
The Coatesville property and its high-profile tenant will play host to the scrutineering and documentation for Targa's 80-plus competitors the day before, with the start planned for early on the Thursday morning.
Dotcom's taste for quick cars and racing meant that when Targa organisers approached him to be involved he didn't hesitate to agree.
"Of course," he said this week. "I am a big supporter of Targa. I like the format of the event, where they close off the road and you can drive as fast as you like, very much, so when I was asked to be part of it I said yes immediately."
It's not only Targa's hardcore racers who are invited to the mansion on October 30. The public are welcome, with a shuttle bus from Coatesville School running from 3pm until 8pm. There will be a charge for tickets - available from the Targa website www.targa.co.nz - with proceeds going to the official Targa charity Kids in Cars.
"I want to be the host not just of the event but also for the visitors who want to come and check out the cars and the drivers," says the self-confessed speed junkie. "We will have food and drink vendors on site and I will be organising some fun things for the visitors."
This will include seeing drifter Cam Vernon throw a Ferrari F430 around the mansion's driveway.
Memories are made of this
Kim Dotcom has done more mad motoring than most of us have had hot dinners. Here's a taster of the Dotcom drive train ...
What's the coolest car you own/have owned?
Rolls-Royce Drophead
Best motoring experience?
Racing with Kimi Raikkonen and Finn Batato at the Nurburgring
Car you'd love to own?
Just get back the cars that I owned and that were taken away from me illegally
First car you owned?
Mercedes E50 AMG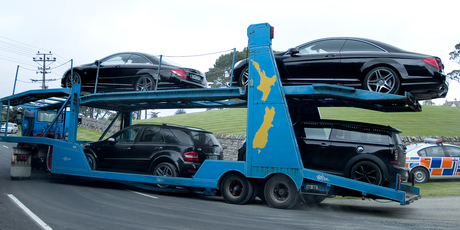 Who's racing and where they'll go
Targa New Zealand has been running for 19 years and covers 650km of closed special stages and 1225km of transport stages over four days.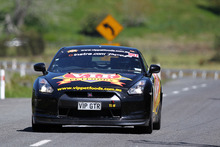 It kicks off in Auckland and dips into New Plymouth, Palmerston North and Havelock North before finishing up in Taupo.
Multi-day Targa tarmac rally events attract people from all walks of life and with cars from hi-tech all-wheel-drive machines like the Nissan GTR-35 of Targa New Zealand ''King'' Tony Quinn and co-driver Naomi Tillett, to the 1964 Fiat Abarth 1000 of event stalwarts Mike Lowe and Phillip Sutton.
Back to try to make it five consecutive wins are Quinn and Tillett with competition again
expected to come from local pairings Glenn Inkster and Spencer Winn from Pukekohe in a new Mitsubishi Evo 8 and Targa Rotorua winners Leigh Hopper and Simon Kirkpatrick from Orewa in their Subaru Impreza.