One brand looks set to take the big-bike titles again, reports Andy McGechan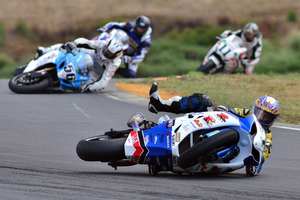 The more things change, the more things will probably stay the same.
Suzuki riders won both the main categories - the superbikes and 600cc supersport classes - at this year's New Zealand Superbike Championships and, looking at the riders lining up to compete on Suzuki motorcycles next season, it could be another golden run for the company.
It was a Suzuki 1-2-3 finish at the top of the premier superbike class last season. Australian Robbie Bugden took the title for a fifth time, and Feilding's Craig Shirriffs and Christchurch's Dennis Charlett took the other two spots on the series podium.
Bugden, from Brisbane, won't be returning to New Zealand this summer and one of his traditional rivals, nine-time former New Zealand champion Andrew Stroud, of Hamilton, recently announced his retirement, but plenty of other Suzuki riders are expected to fill the void.
Shirriffs and Charlett are the men most pundits expect will climb up the rankings, although the No.4 man in the superbike class last season, Wellingtonian Sloan "Choppa" Frost, has joined the Suzuki camp and could challenge Shirriffs and Charlett.
Frost is a rising star of the sport. Coming from a motocross background, the 31-year-old married father of two, "with number three on the way", has been chipping away at the sport's road-racing hierarchy over the past few seasons.
He raced a BMW last season, but is now back on a Suzuki and says he is "really excited about the upcoming battles".
Frost is thrilled to be on the same machinery as the men who hogged the superbike podium last season.
"Andrew Stroud was my idol and now I'm going to be on the same bike as him. It is a great bike and now I just really need to get some bike time with the Suzuki GSX-R1000 ...
"I hope momentum is on my side when the nationals do finally roll around (in Christchurch in January). I scored my best points at the final three rounds of the 2013 season. I was runner-up on the day at round three, runner-up again at round four and then I won the day at round five.
"If I can pick up where I left off last season, and momentum favours me, then the 2014 superbike crown is well within my grasp."
But Frost knows he will have to work to match riders the calibre of Shirriffs and Charlett.
He'll also face tough competition from fellow Suzuki superbike hot-shots Hayden Fitzgerald, last year's No.6 in the class, from New Plymouth, as well as Auckland legend Ray Clee, superbike rookie Jaden Hassan and Kawasaki ace Nick Cole, of Hamilton.
Auckland teenager Hassan took a Yamaha R6 to finish runner-up in the 600cc supersport class last season, but he will now campaign a Suzuki GSX-R1000 in the superbike class.
Christchurch's John Ross will return with his Suzuki GSX-R600 to defend his 600cc supersport crown and he will face stiff opposition from fellow Suzuki stars Dave Manuell, of Auckland, and Kiwi international Avalon Biddle, from Orewa.