Stanaway looks set for good run in Aston Martin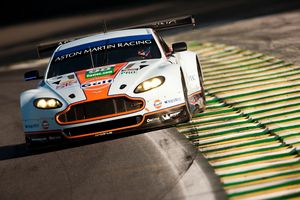 New Zealand motor racing rising star Richie Stanaway has parked his Porsche Super Cup car in the garage and gone to Austin, Texas, for round five of the World Endurance Championship.
The Kiwi has had his share of misfortune in the Porsche GT series, but has been a revelation in the Aston Martin Racing Vantage GT3 car.
"Monza [the last Porsche race] was okay for me and we were fourth fastest in practice, but we had a bent sub-frame in qualifying, which meant the car was very loose in the rear end and slow in a straight line," said Stanaway.
"I was sixth tenths off the pace and could only qualify in 15th. In the race I got a good start but in turn one ahead of me a couple of cars spun and one of them hit me, damaging the radiator and ending my race."
Stanaway started his season in the Super Cup with sterling efforts, but it's been a nightmare ever since. No matter what he tries to do something, or someone, takes him out or breaks the car.
"I haven't really been able to show my true and real potential and that's been pretty frustrating," he said, "Some people may be questioning my ability, but a lot of it has been out of my hands. The good thing, though, is that the people behind closed doors know what's going on and understand from my data that I know what I'm doing and that I'm doing a good job."
In his last outing in the Aston Martin at Sao Paulo in Brazil, Stanaway was the fastest driver on the track, putting his car on pole and beating several highly regarded professional drivers.
Such is his standing in the Aston Martin team, the 21-year-old from Tauranga was snapped up to race this weekend. His deal with the British outfit is race by race, but you'd have to be a bit slow not to realise that Aston Martin will have probably pencilled him in for the remaining rounds.
"Being back behind the wheel of the Aston this weekend means I'll be able to show people what I can do after the dramas in my last Porsche race," he said.
"I'll be keen to showcase what I can do in the car again."
It's the first time at the Grand Prix Circuit of the Americas track for the whole team.
The track should suit Stanaway's driving style and he could just make it to the podium come Sunday afternoon, US time.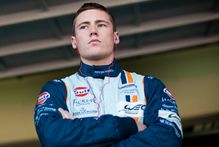 "I had pole position in qualifying in Brazil and when I was in the car I had the fastest lap during the race. I felt quite comfortable, as we were not pushing hard so I had a bit of pace still up my sleeve.
"It was the most dominant performance I've had all year in a GT car and it was good because it's been a steep learning curve.
"That pole position last time out was probably the best result of my racing career."
Things didn't pan out quite so well in the race. The car had a gearbox problem, and spent half an hour in the garage. It doesn't matter how fast you are, at that level of competition that's too much time parked up, so Stanaway and co-drivers Paul Dalla Lana and Pedro Lamy had to settle for 12th place.
"Although it's got a roof, the car is a lot like the formula cars I've raced, and my experience translates a lot better into the Aston Martin than it does in the Porsche," Stanaway said.
"It sort of comes to me a lot more naturally in the Aston Martin and I really enjoy driving the car.
"Obviously I want to make a good impression on the team and I would really like to be able to do the World Endurance Championship with Aston next year."