Batteries are out front at Frankfurt but sales prospects are uncertain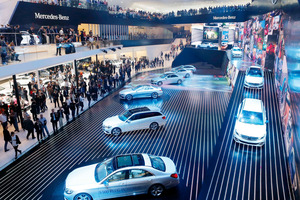 The world's automakers are showing off their most shiny, most advanced vehicles at the Frankfurt Auto Show this week. Among the 70 world premieres are a notable number of new cars powered either by batteries or hybrid gas-electric systems. There are also outlandish concept cars that flaunt technology and design, but aren't intended for sale.
It's all spread over 230,000sq m - the equivalent of 32 football fields - at the sprawling Frankfurt Messe exhibition centre. The show, held every second year, attracted 928,000 visitors in 2011.
Here's what's on show:
PLUGGED IN
The show has an array of new battery-powered electrics and hybrids, which combine electric motors with internal combustion engines. However, they also come with uncertain sales and profit prospects.
Both types of car cost more, and pure electrics can give consumers "range anxiety", or the fear of running out of power.
That fear is a reason that plug-in cars such as GM's Volt and Nissan's Leaf have struggled to win market share in the United States. And petrol hybrids are a tough sell in Europe, where people can get good mileage using cheaper cars running on diesel fuel. Electrics and hybrids are less than 0.2 per cent of vehicle registrations in Europe.
Some of the vehicles being displayed are speedy high performers in luxury price categories - which makes sense in a way. Electric motors can supply quick acceleration, and high-end consumers are more able to pay.
BMW has the i8, a hybrid sports car that uses carbon-fibre parts to save weight so it can accelerate to 100km/h in just 4.5s. Audi has a hybrid concept of its venerable Quattro model, with a whopping 521kW and top speed of 305km/h.
Toyota's souped-up concept version of its Yaris compact comes with three electric motors and a four-cylinder engine. Even Volkswagen, long sceptical of electric vehicles, is rolling out an electric version of its flagship Golf hatchback, as well as another, of its tiny Up! city car.
Ferdinand Dudenhoeffer, professor of automotive economics at the University of Duisburg-Essen in Germany, says hybrids may help companies meet European Union fleet average emissions standards even if sales are modest.
Electrics have limited sales prospects so long as diesels are cheaper. He says VW will be lucky to sell 20,000 e-Golfs and the company may regard the car more as a demonstration of technological prowess than as a potential sales winner.
"The signal is, we don't want to sell this car," Dudenhoeffer says. "We just want to show we can do this."
WHEW, WE MADE IT
The mood at the show will be the recession is over "and we survived", says analyst Christoph Stuermer at IHS Automotive. Sales in the United States, a key market for automakers worldwide, are finally back to pre-recession levels and could reach 16 million this year.
EU sales are headed for just under 12 million this year - far below the 2007 level of 15.6 million. Still, there's hope that sales have at least bottomed. The 17 countries that use the euro emerged from an 18-month recession in the second quarter.
SMALL SUVs It's a hot category as more manufacturers try to emulate the success of vehicles such as the BMW X1, Opel Mokka and Dacia Duster.
These SUV-style vehicles have muscular features such as bigger wheel wells and a higher seat for the driver, but are built on small-car and bold
platforms. Mercedes has unveiled its GLA small SUV and Lexus will feature the LF-NX concept - using Toyota's successful hybrid drive system.
Since 2009, SUVs have doubled their market share in Germany, the biggest European auto market, from 7 per cent to 16 per cent.
THE CONNECTED CAR
Linking the car to the internet, smartphones or GPS services is billed as a theme of the show.
But there's not a lot to see - yet.
BMW had a stand at the Icons of Connected Drive while the new Mercedes S-Class luxury sedan showed it could drive on its own in stop-and-go traffic to reduce driver fatigue - although it quickly reminds drivers to put their hands back on the wheel.
Other carmakers are aiming for similar levels of driver assistance, but technological and legal barriers remain.
In the US and Europe, manufacturers are already testing technology that would allow cars to communicate with each other. Mercedes calls it "car-to-x communication".
It would warn a driver of obstacles, such as a car heading into oncoming traffic, before they can be seen.
The German company is putting cars equipped with this technology on the road this year. It's all part of a push to make driving safer.
Still, even if all the trials go smoothly and regulators force manufacturers to adopt such technology, it could take years before it reaches the market.
Maybe something for the next Frankfurt Auto Show in 2015.
Lap of pricey luxury now in plush green
Mercedes-Benz is offering a hybrid version of its flagship S-Class luxury sedan that can drive emissions-free - and still provide the kind of pampering and power the pricey
brand's wealthy customers expect.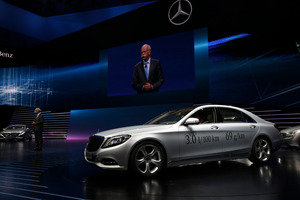 The German company took the wraps off the 2015 Mercedes-Benz S 500 Plug-In hybrid at the Frankfurt auto show, following the introduction in May of the petrol and diesel powered versions of the S-Class.
The sedan, a key earnings driver in China, comes loaded with technology and extras that include a hot-stone massage function in the seats and a perfume generator that allows adjustment of the interior's scent.
The S 500 plug-in is aimed at people who want a hybrid without compromising on the luxury, powerful acceleration and image that go with driving a Mercedes.
Its six-cylinder petrol engine has robust 328 horsepower, and there's no range anxiety, or fear of running out of battery charge, as with an all-electric car.
A computer selects the best mix of internal combustion and battery power. The system uses navigation data to scan the road ahead and maximise efficiency, for instance,
by using the battery on an uphill stretch, to recharge it on the following downhill using energy from the brakes.
The car can also use the petrol engine to charge the battery en route, although that's more expensive than charging it at home.
The S 500 can switch to all-electric mode, in which it has a range of 30km. Someone with a shorter commute than that could simply charge it overnight and travel back and forth all week without burning any petrol.
Alternatively, it can switch to E-Save mode, in which the battery is held in reserve to drive on electric power alone later.
The car, which goes on sale next year, generates 69g of carbon dioxide a kilometre, which would exempt it from London's 10 ($19.45) congestion charge.
Under the hood: 3.0-litre turbocharged V6 plus an 80kW electric motor and a high-voltage lithium-ion battery. The company says the car will accelerate from 0
to 100km/h in a brisk 5.5 seconds. Its top speed is 250km/h.
INSIDE: Like the conventional model, the S 500 caters to the comfort of rich customers who may have hired drivers. Back seats recline 43.5 degrees if the passenger wants to kick back and rest. Advanced driver assistance and safety systems using cameras and radar mean the car can adjust the suspension for rough pavement ahead, and almost drive itself in slow stop-and-go traffic.
OUTSIDE: The car doesn't change much in terms of the older model's sleek lines. It has a taller grille.
FUEL ECONOMY: The company says it gets up to 3 litres/100km under the European standard, which combines city and highway conditions.
PRICE: Not announced yet, but it's likely buyers will pay a premium over conventional S-Class models.
CHEERS: Helps take hybrids and low-emission driving further into the mainstream to new, upscale buyers.
JEERS: Hybrids are still only a tiny part of the market.
-AP