Dirty habits turn our cars into mobile germ factories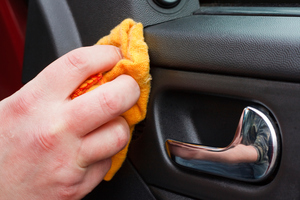 As motorists, we tend to look down our noses at those on public transport - mobile petri dishes that spread disease among passengers. But a lot of us are driving around in vehicles that are just as unsanitary, blissfully unaware just how much muck we and our loved ones are exposed to every time we get in the car.
A surprising recent survey by tissue maker Kleenex showed just how filthy Kiwis are - and it proved that our grotty habits have actually worsened over the five years since the survey was last carried out.
Perhaps less surprising was its finding that blokes between 18 and 39 were most disgusting, with 77 per cent admitting to not covering their sneezes; 19 per cent of 18- to 29-year-olds sneezing into their hands and not washing the evidence off. Worse still, 64 per cent of 18- to 29-year-olds copped to using clothing, fingers or wrists to wipe their nose.
These grisly results make you wonder just how good the hygiene habits of your car's previous owner were.
A study by Britain's Aston University proved cars as the perfect bacterial breeding ground - especially things like spilt drinks and food crumbs on carpet, which were easily capable of breeding nasties like staphylococcus.
A quick chat with a local valet revealed a shocking roster of rubbish and nasties found in cars booked in for the clean-up treatment. The valet, who didn't want to be named for fear of scaring off customers, told Driven that the most common finds were rotting food, used tissues and cigarette butts. At the other end of the spectrum were such horrific items as used condoms and soiled nappies. Bear this in mind next time you get a rental car, too.
Keeping your car hygienic and happy isn't a huge task, but is certainly one it pays to keep on top of - nobody likes to get sick, especially when it's the unexpected result of driving their own car. And it takes more than a quick vacuum and a squirt of air freshener.
Aside from regular vacuuming, including awkward areas like between seats and up underneath the dashboard, these five tips will help keep your car's hygiene rating at the right end of the scale.
*Shampooing carpets either professionally or DIY with cans of foaming carpet cleaner you'll get at the supermarket.
*Use air fresheners with anti-bacterial properties - the simplest way of killing any potential nasty.
*Wiping down dusty surfaces keeps passengers breathing easier.
*Air-conditioning servicing can stop your car permanently circulating bacteria and moulds around your car.
*Use anti-bacterial wipes regularly on hot zones like door handles, gear knobs, steering wheels and even stereo controls.
*Clean up any spillage as soon as possible.
For more car care tips go to nzherald.co.nz/driven and search 'Car Care'