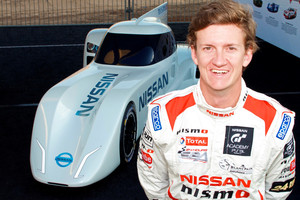 Who says video games are a waste of time? Lucas Ordonez, who won the global Nissan PlayStation GT Academy competition in 2008, has secured one of the most groundbreaking drives in motorsport.
Ordonez played the game Gran Turismo to eventually get himself a seat in a real race car for a whole season, and has become a star driver. Now, five years on, he's been appointed development driver and test pilot of the Nissan ZEOD RC electric race car.
Launched at Le Mans this year, the zero emission racer is the evolution of Nissan's stunningly different DeltaWing racing car, and will make its first race appearance in next year's 24 Hours event.
"To work again with this group and to be part of this project for Le Mans is amazing," said Ordonez.
"To start from the beginning of the project is just a dream for me. I'm really looking forward to working with the team to develop all the new technology in the ZEOD RC and to develop the car on track. That's what I need as a racing driver right now. I've been proud of my pace competing against all of the other drivers, but now it's time to go one step higher in my career."