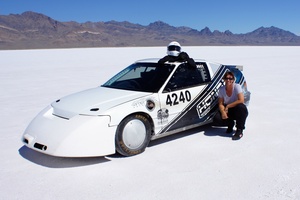 Following in the tyre marks of Kiwi motorcyclist Burt Munro is New Zealand driver Miriam Macmillan.
The Hondata CRX Land Speed Racing Team, with driver Macmillan, set a new speed record of 383.3km/h in her turbocharged 1.5 litre Honda CRX at the world-renowned SpeedWeek 2013 at the Bonneville Salt Flats in Utah. Running in the H/BFCC class (1 to 1.5 litre blown fuel coupe) Macmillan comfortably surpassed her previous 2011 record of 354km/h (a record is an average over two passes over successive days).
Struggling with the tremendous heat throughout the event, the team replaced two turbochargers, which failed in the final measured mile preventing the CRX from reaching its potential.
"Nothing in this sport is ever easy", says Macmillan, driver of now the world's fastest production Honda. "We're on the verge of a 250mph record (400km/h) which we think we can do next year with a bigger turbo and better cooling."