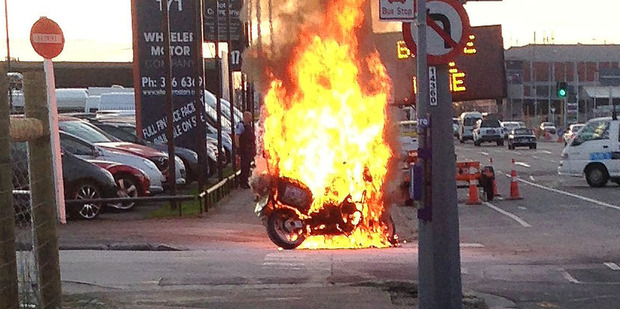 A motorcycle cop's bike burst into flames when he stopped to question a Christchurch motorist this morning.
A fuel leak or mechanical fault is likely to blame for causing the spark about 7.40am.
The officer had just stopped a motorist on the corner of St David St and Moorhouse Ave.
He arrested the car driver for possession of drugs and a BB gun, and had called for assistance from a patrol car to collect the man.
As the patrol car was preparing to leave, the motorcycle officer got back on his 2007 BMW R1200 RTP and started to move off when he noticed smoke from under the seat.
He pulled over and stopped, put the bike on its stand and stepped a short distance back.
"The bike then became engulfed in flames, and was totally destroyed. The officer was not injured,'' a spokesman said.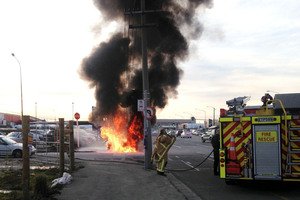 Firefighters extinguished the blaze.
A mechanical inspection will be carried out to establish the cause of the fire.
Paul Mills arrived to work at a nearby car sales yard when he saw the bike ablaze.
"I don't know how it started, but it was obviously a good one," he said.
"The cop was trying to direct traffic. They had the situation pretty well under control, but it was a unique way to start my day."
- APNZ