Impracticality just adds to the fun for ad man, writes Jacqui Madelin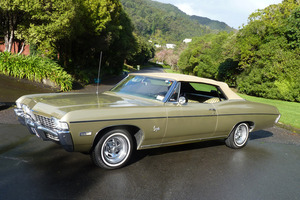 You wonder why anyone would get a convertible out of the garage on a blustery Wellington day, with waves washing over the seafront road and rain threatening.
But, "What I love about classics like my Impala is they're just so impractical," says Philip Andrew, executive creative director at advertising agency Clemenger BBDO.
"I like the impractical side of the things I'm into, the car and my boats, they're works of art and there are stories in them, in their wood and their past, people have had a life with those old things."
There's plenty of life packed into Philip's garage - a custard-yellow 1964 Fiat Bambina squeezes alongside the 5.4m 1968 Chevrolet Impala, with a 1955 Century Palomino motor launch and a 1958 Century Resorter launch wedged in.
A lot of maintenance? "That's what most people say, but that's the fun of it for me."
Mind you he doesn't work on the cars - his 1974 Lancia Fulvia is away being restored - "only the boats as I'm good with wood".
If he'll forgive me, the Impala, with its gold-on-gold interior and paint, does scream "ad agency creative", but actually it was bought to tow the boats.
"I've always liked Impalas but in New Zealand they're also expensive, and I wanted left-hand-drive."
So he used a Florida-based car-finder to source the Impala, "It's quite nerve-racking buying a car you've never seen."
It arrived three months ago - in time for winter - with a pack in the glovebox including spare bulbs, the original owner's manual, a brochure from the year of purchase and the business card of the previous owner, who he rang for a chat, as you do.
"It was 5pm there and this voice answered and I told him I'd brought his car to New Zealand. 'Hot diggety' he said, and told me more about it."
It had been repainted Ash Gold in the States and has a newish hood, and a whole new interior organised by the finder.
"He wasn't happy with it, and knowing I'd tow a boat he put stronger springs in too.
"The challenge now is to find a tow bar, though in general getting parts for the Impala is easy, you can even get decals for the air cleaner," says Andrew.
"When we grew up everyone told us British cars were well made and Americans weren't, but the everyday Brit cars were underpowered and too heavy, look at what they were turning out. But the Americans had big, powerful engines and were very advanced for their day."
His Impala has the 327ci (5.4-litre) small-block motor. "Given a choice I'd have gone for the big-block, but this is an engine everyone raves about. It's a good-revving V8, though, when you lift the bonnet there's a load of space."
Andrew starts it up, and from cold it sounds delightfully rude, a bit like a classic launch as it grumbles and burbles. I hop in, there's plenty of room up front - the car's more than two metres wide - and the boot's roomy, at 481 litres, though rear legroom's tight.
I'm looking forward to seeing what 204kW and 335Nm feels like in this thing, but we don't go far - the only road out is lashed with sea foam, and neither of us wants to see what salt will do to his gorgeous car. Not to mention it's running a bit rough - self preservation perhaps, given the lowering skies.
So we drop the electrically operated roof, admire the aerodynamically friendly tucked-away windscreen wipers, take pics and enjoy a flick through the manual.
This is the Turbofire motor, "there's no turbo anywhere near it", Philip says, with the 400 Powerglide three-speed auto - the Americans just love their superlatives - plus 15 "magic mirror colours", 12 of them brand-new, and a two-speed articulated wiper system - "we call it better", the blurb says.
It's a gorgeous car, and hard to believe they weren't exotic when new, especially when you see this colour. Still, and playing devil's advocate here, shouldn't an ad man drive a Porsche or Ferrari?
"If I drove one of those in the city, no one would let me into traffic," Philip says. "In the Impala I get waves, and people want to talk to you. But the Bambina's the biggest babe-magnet ..."