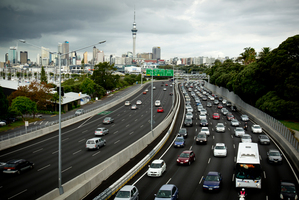 The Government has rejected two proposals for getting Auckland road users to pay for an estimated $12 billion shortfall in funding for roading projects.
The first proposal - suggested by a think-tank commissioned by Auckland mayor Len Brown - involved ongoing higher rates paired with fuel tax increases of 3.5 cents annually and the second included higher public transport fares and charges to use existing roads.
The Government rejected the proposals when in draft form in April and the stance has been reiterated by Transport Minister Gerry Brownlee, Radio New Zealand reports.
"It doesn't appear that they have heard some of the views of the Government - particularly on tolling of existing roads and then the somewhat perplexing idea that you can raise revenue by reducing traffic through congestion charging," Mr Brownlee said.
"I don't think that those two things are compatible and I don't think it's a particularly secure way to go about looking at future funding."
The Government had already committed $50 billion of funding over the next 30 years towards the projects, Mr Brownlee said.
"We're spending roughly $1 billion each year at the present time and we've got no plans to reduce that."
- APNZ