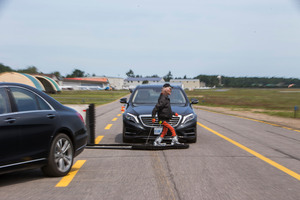 How safe is too safe when it comes to cars? The most likely reaction you'll get from people when posed with that questions is that there's no such thing as too safe. But after chatting to Mercedes-Benz engineers at the launch of this weekend's S-Class cover car, I've changed my thinking.
While the S- and E-Class Mercs are dripping with cutting edge safety tricks - as are most of the marquee European brands' flagship models - it does pay to remember that the bulk of other vehicles on the road haven't got these life-saving abilities.
And in New Zealand, with our embarassing 14-year-old fleet average, a hell of a lot of cars haven't got much in the way of electronic safety aids at all.
The German engineers, who are all highly excited about the prospect of building autonomous cars, still believe that it's important to have systems that only take over in utterly dire situations.
With the S-Class collision avoidance systems and even self-driving features, the vehicle warns the driver repeatedly before completely taking over.
The thinking is that if drivers rely on these safety systems too much, their inattentiveness creates a whole new set of issues.
But it's up to individual drivers to be aware of what their car can and can't do. I wouldn't say having an airbag has made me less concerned about crashing - I'd rather avoid it completely -and anti-lock brakes haven't changed the way I drive, but I'm sure that idiot-avoidance measures with ABS are much simpler since the adaptation of that life-saving technology.
Driver training is still key to the whole safety thing. Many in my age group learned to drive in paddocks in cars like Escorts and Minis and our first cars were nothing like the far more powerful modern cars. A few lessons, a theory test and a quick driving test will never teach a motoring newbie how to handle their vehicles in an emergency situation. The faster you go, obviously, the bigger the mess.
Maybe a power-to-weight based system for L-plate drivers would be one way to keep people alive until they pass their full licence.
What do you think - is technology the answer to road safety, or is there more to be done at the front end?