Working prototype of C-X75 shows off hybrid technology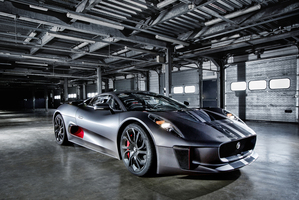 Jaguar has entered the hybrid hypercar race, unveiling a working prototype of the C-X75 concept it showed in 2010.
Working with Williams Advanced Engineering, Jaguar's engineers have built an all-wheel drive, plug-in parallel hybrid, wrapped up in the company's first carbon composite monocoque chassis. It claims the C-X75's powertrain is the world's highest specific power engine.
Jaguar, which has undergone a resurgence in recent years under the ownership of India's Tata Motors, decided against putting the car into full production, citing the global economic climate as a reason to keep it as a technology showpiece.
If it had entered full production - which in itself would have been in very low numbers - the C-X75 would be up against McLaren's new P1, the Porsche 918 Spyder and LaFerrari, the trio at the forefront of hybrid sportscar building.
Jaguar's low-emission engine is only a 1600cc four cylinder engine, with a combination of turbocharging and supercharging adding up to 374kW.
Add to that the output from its cutting-edge electric motors - another 290kW - and it's capable of a monster 1000Nm of torque. With an astral 10,000rpm redline, and mated to an advanced seven-speed automated manual transmission with a shift time of less than 200 milliseconds, the C-X75 is capable of a 0-160km/h blast in less than six seconds.
Jaguar says the car's battery pack is the highest-rated PHEV (parallel hybrid electric vehicle) power source available.
During testing, the car exceeded 320km/h and is said to be capable of 354km/h. The deployable aerofoil and underfloor air channelling creates over 200kg of downforce and, in addition to active systems, make the car very stable at speed.