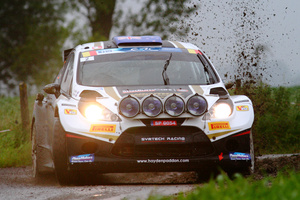 Kiwi rally drivers Hayden Paddon and John Kennard took a stage win on the opening day of the Geko Ypres Rally, their first attempt at the highly-regarded Belgium event.
Securing a winning margin of just 0.3 seconds over France's Bryan Bouffier on the final 9.66 km stage, Paddon was the only driver to stop Belgian Freddy Loix winning all six stages of the first leg.
After last night's (NZT) opening day, Paddon and Kennard are ranked third overall behind Loix and Bouffier, with a total accrued time of just over two minutes behind Loix, after handling the slippery mud that was tracked across the narrow tarmac roads.
Rain started on the first stage and, with cold tyres, Paddon went off on the very first corner through a potato field. Despite the brief excursion, Paddon was fourth quickest through the 14.3 km opener and continued through the following three stages to set fourth or fifth-quickest times in the 100-strong field.
"It's been a very challenging start to Rally Ypres,'' Paddon said. ``Increasing rain made the stages incredibly slippery and a lot of mud was dragged on to the road. Despite not being comfortable in the conditions we still managed to end the day in third, which is not too bad considering.
"Our biggest problem was having no grip, and while the conditions were slippery for everyone, we struggled more than most trying to dial the car and tyres into the conditions. However we completed the day successfully and even won the last stage.''
More rain is forecast to continue overnight but will hopefully stop and leave the roads slightly drier before the rally recommences.
'We expect there still to be a lot of mud on the stages from drivers running in front of us cutting corners but, with drier roads, we should be able to get some better tyre temperature and be able to push with a lot more confidence,'' Paddon said.
Targeting a podium finish as their ideal goal, Paddon and Kennard face 196.07 competitive kilometres across 14 special stages to wrap up the event.
- APNZ