Classics across the Ditch up for grabs for Kiwi collectors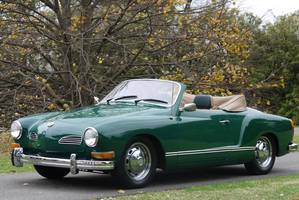 A 1973 Volkswagen Karmann Ghia Convertible that is believed to have made a fleeting appearance in the 1998 movie Rush Hour starring Jackie Chan is looking for a new classic role at Shannons Melbourne winter auction on July 1.
The stylish original left-hand drive VW appears with its tan and fully lined convertible hood erected in the movie scene where the diplomat's daughter is stuck in a traffic jam while being chauffeured to school.
It may not be much to dine out on but, because of their pretty, uncluttered styling, early Karmann Ghia Cabrios were film favourites with many directors.
Uma Thurmann drove a powder blue convertible in one of the Kill Bill movies, Mike Myers less charismatically cruised to his honeymoon in So I Married an Axe Murderer in a red example and Maxwell Smart steered an early model through the opening credits of the first and second seasons of the Get Smart TV series.
One Karmann Ghia tragic has prepared an on-line list of 40 films and TV series in which the Barbarella of Beetles has appeared!
Apart from its tenuous Rush Hour connection, the late model Karmann Ghia Convertible in the Shannons auction stands on its four-wheel merits.
The 1600cc, four-speed manual original left-hand-drive car, with its matching tan interior and glass rear window, was one of 2650 built in 1973 and, according to Shannons, presents in lovely condition.
It is offered for sale with no reserve and, at its estimated selling price of A$14,000-$18,000 ($16500- $21000), would suit a collector looking for a practical classic to enjoy on a regular basis.
Also offered with no reserve in the auction is another classic VW from the same era - a 1974 Beetle Superbug L Sedan, presented in striking Mellow Yellow and sitting on EMPI-style alloy wheels.
The Beetle is being sold to purchase a modern Volkswagen and is fitted with a modern Alpine sound system, making it a usable and head-turning classic at its expected selling price of A$5000-$8000.
Shannons auctions often attract interest from New Zealand buyers.