Thomas Men checks out an all-seeing eye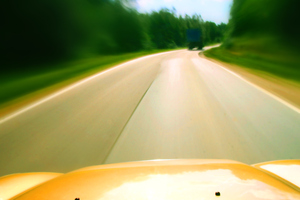 Many drivers just want some hard evidence in case of an accident or if someone makes a claim against them. Legal expert Markus Schaepe It never takes its eyes off the highway, and it sees everything that happens on the road or in the car.
Mounted on the fascia, a dashboard camera - dash cam for short - can document your behind-the-wheel behaviour and that of the motorists around you.
In some cases the images these devices capture are spectacular, as the pictures of a meteor shower recorded in February by motorists in Chelyabinsk, Russia showed.
A growing number of cautious drivers are discovering dash cams as a way of documenting accidents and of even proving innocence or blame in the case of road accidents when insurance companies are reluctant to pay up.
A rear-facing version can also be installed to keep an eye on the interior, logging its images onto a a chip card that can be read on a computer.
Depending on the type of model, a dash cam can cost from €40 euros ($67) for a simple system to €250 for a high-end set-up.
Expensive versions often come with a separate camera which records activity inside the car, tapes sound and uses a GPS receiver to locate the vehicle, matching recorded activity to where it is happening.
State-of-the-art devices react to acceleration, swerving, hard braking and other hazardous situations.
Most dash cams automatically rewrite over uneventful video sequences, so the owner does not have to labouriously delete old files.
Germany's leading car gazette, Autobild, recently tested a mid-priced camera costing €149 and discovered that the device produced perfect high-definition images by day or night.
The technology has long since come of age; similar cameras have been used for years to film car races from the cockpit.
Analysis of the videos helps competition drivers shave seconds off their lap times or correct driving errors. Off the track, reasons for installing a dash cam are more prosaic.
"Many drivers just want some hard evidence in case of an accident or if someone makes a claim against them," says legal expert Markus Schaepe, who works for the huge ADAC motoring club.
"It's worth noting however that the cameras also record footage of third persons."
The legal status of dash cams has not been clarified in most countries and it is by no means certain that images from a camera could help someone prove innocence in an accident.
In Germany, for instance, there is no law on the use of dash cams.
However, says Schaepe, a video can be used as evidence if the court is satisfied that there has been no manipulation.
Having a dash cam record might backfire if a driver has not been obeying highway rules.
In the case of a crash, if police have grounds for suspicion, they might confiscate the camera and use the images it has recorded against the owner.
Rainer Hillgaertner, press spokesman for the Auto Club Europa said videos could lead a court to examine the accident circumstances more closely, "and that can be counterproductive".
Road safety legal experts meeting in Germany next year are expected to lay down some guidelines on the cameras.

-AAP