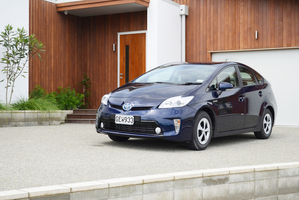 Toyota is recalling about 242,000 of its Prius and Lexus hybrid vehicles worldwide because of problems with their braking systems.
The company said the recall applies to about 233,000 Prius vehicles sold around the world and about 9000 Lexus HS250h models sold in the US and Japan.
Toyota New Zealand said the recall affects 270 current model Prius vehicles sold new here and were manufactured between October 2008 and October 2009. A small number of vehicles sold as used imports may also be involved.
In affected vehicles the fault is caused by components that may wear prematurely in the brake accumulator assembly. It could cause the brake pedal stroke to become longer, resulting in decreased braking force.
Toyota NZ general manager of customer services, Spencer Morris, said the recalls are precautionary. There have been no reported accidents in New Zealand related to this condition.
"Owners of vehicles affected will receive a notification letter and are advised to arrange to have an authorised Toyota dealer inspect their vehicle," said Morris.
The remedial action will take approximately three hours, and will be free of charge to customers.