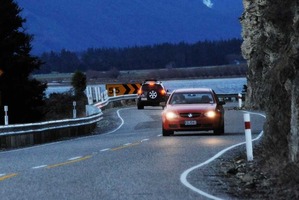 Visual and audible alarms which warn motorists if they are too fatigued to continue driving can actually encourage drivers to stay at the wheel longer, says a doctor in the German capital Berlin.
According to psychologist Katja Karrer-Gauss from the Technical University, such tiredness alert systems can be deceptive.
"If such a system suggests a feeling of safety, people are generally willing to take more risks," she said.
The doctor interviewed dozens of motorists who drive for a living. Most admitted when a driver fatigue warning system was installed they tended to rely on the technology and were apt to keep driving on even when they felt tired.
Tests in a driver simulator also showed anti-drowsiness displays motivated drivers to resist sleepiness at the wheel rather than rest during a journey.
"On average those test persons with a fatigue alarm on board were prepared to drive 20 minutes longer before resting," said Karrer-Gauss.
Many systems use an illuminated coffee cup symbol on the dash to warn drivers of a lapse in concentration but Karrer-Gauss believes this is inadequate.
"People driving as part of their work are often under such pressure to meet deadlines that they consider it more important to stay on the road than pay attention to a blinking coffee cup symbol, between the dials," said the doctor.
"The vehicle ought to be made in a way that it forces the driver to stop - although this is hardly feasible and the technology required would rob the driver of control."
-AFP