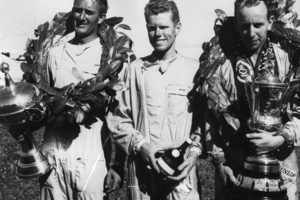 Pukekohe Park Raceway is just as important to New Zealand motorsport as the folk that made it what it is - and that's an impressive list featuring such local legends as Bruce McLaren, Denny Hulme, Chris Amon and the unflappable Kenny Smith.
The roster of blokes who have turned a wheel in anger at the often cold and windy circuit tucked away behind Pukekohe township is a long one.
So we thought we'd celebrate five decades of thrilling racers and spectators while simultaneously driving engineers to despair and panelbeaters to rapture with a special issue that looks at why the super-fast circuit deserves its iconic status in Kiwi motorsport.
And it's not only the serious race drivers who have fond g memories of cresting that bloody bumpy hill or wondering if the brake pads have got another big hairpin stop left in them. Pukekohe Park has provided many of us with our first tastes of circuit driving, whether on track days, club race events or the many corporate days hosted there.
Despite its shortfalls (including that bit in the middle for those weird equine things with no wheels), Pukekohe is truly one of the great stories in New Zealand's petrolhead history.
See you there for some V8 action this weekend.

What's your favourite memory from Pukekohe's 50 years?