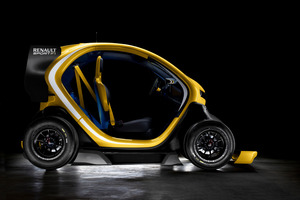 Renault has revealed its sporty version of the single-seater Twizy car that combines Formula One technology in a very small package.
The Twizy Sport F1 concept car is a fun take on Renault's small electric car that features muscular styling. It sits on the wheels of a single-seater race car and is equipped with a front splitter, side-pods, a rear wing and a diffuser complete with an F1-style rain light which forcefully express the concept car's ties with motor racing's premier category.
Twizy Sport F1 is much more than a concept car, however. In addition to its spectacular look, it delivers genuine high performance thanks to its Kinetic Energy Recovery System (KERS) which is identical to the solution used by Renault-powered Formula 1 race cars.
The system instantly boosts power output six-fold to reach almost 100 horsepower and is capable of catapulting the car from standstill to 100km/h as quickly as Renault's highest-performing road car, Megane R.S. This technological gem is the fruit of close collaboration between engineers at Renault Sport Technologies and their colleagues at Renault Sport F1.