State aid for car giant under threat as workers laid off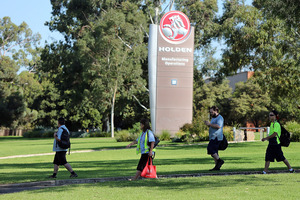 Holden took money from South Australian taxpayers and then just tore up the agreement.Janet Giles, South Australian Unions secretary Two Australian state governments are threatening to withhold tens of millions of dollars in assistance and unions are describing Holden as a "shocking corporate citizen" after the car giant announced plans to axe 500 jobs.
Component makers have also warned Holden's decision to build fewer cars will hit suppliers' jobs.
Holden will slow production at its Elizabeth plant in South Australia from 400 cars per day to 335, with the loss of 400 jobs, while a further 100 positions will go in Victoria.
The Victorian jobs will be lost across pre-production workers at Fishermens Bend in Melbourne and validation staff at the Lang Lang proving ground in Gippsland.
Victorian Premier Denis Napthine warned that Holden won't see a dollar from his government if it breaks a taxpayer-funded investment deal struck just last year.
"We haven't paid any money to Holden and we won't pay money to Holden if they don't adhere to the principles agreed to," said Napthine.
South Australian Premier Jay Weatherill also set the stage for his government to walk away from a promise to provide A$50 million from 2016, part of a A$275 million federal-state funding package.
He rejected suggestions from the company that no deal had been finalised, saying it was "manifest" in the exchange of letters.
Unions said every South Australian would be shocked by the company's behaviour.
"Holden took money from South Australian taxpayers and then just tore up the agreement," said SA Unions secretary Janet Giles.
She branded Holden a "shocking corporate citizen" and said if it refused to live up to its part, SA should withhold its investment and use the cash to help workers about to lose jobs.
Weatherill planned to have another meeting with Holden chairman Mike Devereux to thrash out a new arrangement.
He said employment levels in SA were an essential part of the agreement and he would consider the state's options. "I have to weigh up their commitment to investing $1 billion and the long-term security of the plant.
"I have to weigh up the present needs of these 400 workers and I also have to protect the taxpayers."
But Devereux said he was mystified as to how he could be in breach of a deal that was still to be signed. "As I sit here today we don't have a contract," he said.
The Holden boss said the parties were six to eight months into the formal contract process that would hopefully be finalised later this year.
Under the terms of the assistance package, Holden will get A$275 million from 2016 in joint federal-state funding to ensure the future of its local assembly operations until at least 2022.
That is on top of the near A$2 billion the company has been paid by taxpayers over the past decade.
-AAP