Race-goers can enjoy just as much excitement off the track during the weekend as on it.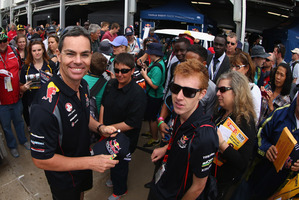 QUEEN ST PIT STOPS
When Tomorrow, 11am-4pm
Where Auckland CBD
See www.aucklandnz.com/v8supercars/queen-st
The central city roars to life with four pit stop experiences along Auckland's main drag. The pit stops will be located at Queen Elizabeth Square; outside Downtown Shopping Centre; Fort St; Vulcan Lane. Drivers will be on site between 11am-1pm.
FAMILY ZONE
Where Inside Gate 2
When All three days
Relax on the large grassed area and watch the action on the big screen, or get involved in rides, amusements, food outlets and entertainment for all ages.
Bigger kids can try out the 8m super slide on the outside of the track at Turn 9.
FAN TRAIL
Where Pukekohe Station to Raceway
When Saturday and Sunday
Heaps to check out, including smash-a-car competitions, car simulator games, street performers, classic V8 muscle cars and more.
The 1.5km route can be walked in 20 minutes, but it's recommend you allow 30 to 45 minutes; from 7am-10am and 5pm-7pm on both days.
PEPSI PLATFORM
Where Inside the Hairpin overlooking Turn 5
When All three days
Pepsi will give small groups of selected guests the opportunity to travel up the lift for unobstructed viewing of the circuit below them.
MERCHANDISE ALLEY
Where Between Gates 2 and 3
When All three days
DISNEY-PIXAR FUN ZONE
When Saturday and Sunday, 10am-4pm
Where Inside Gate 2
Little Cars fans can try the two-track giant inflatable slide and jumping castle; young cowgirls and boys can test their skills in Toy Story's Lasso Challenge; get lost in the Monsters University maze; or chill out in the Finding Nemo 3D Movie Dome.
STRIKEMASTER JET
When Saturday and Sunday morning, Sunday Race Grid
Where Look to the sky!
BEACH HOP CLASSICS AND HOT RODS
Where Beside the Family Zone
When Saturday and Sunday
60 prizewinning hot rods and classic cars from the annual Whangamata Beach Hop on display, and parading on-track on Sunday.
GARDEN BARS
Where Chill-out Zone above Turn 11 bleachers
When All three days
The Jim Beam Garden Bar will overlook the Grid Girl Stage and big screen; the Tui Garden Bar with live bands will be on the the fringes of the Chill-out Zone.
DRIVER AUTOGRAPH SIGNING
Where Rear of V8 Supercar Garages (paddock pass required)
When Saturday 2.35pm-2.55pm; Sunday 8.30am-8.55am
Pre-purchase your tickets including paddock pass or upgrade at the circuit.
HARLEY DAVIDSON PARADE
When Saturday
Over 100 Harley Davidson motorcycles from Waikato and Auckland take part in a parade lap with attitude.
ON TRACK COMMENTARY
When All three days
Tune into 88.3 FM to hear what's happening on and off the track. You can also listen to team frequencies through a scanner radio - the frequency list will be available on the website.
THE FASTEST INDIAN MOTORCYCLE
Where Merchandise Alley
When All three days
Used in The World's Fastest Indian, a perfect replica of Burt Munro's 1920s Indian motorcycle.
BRITTEN V1000 MOTORCYCLE
Where Merchandise Alley
When All three days
Designed and built by the late John Britten in Christchurch, the revolutionary, Daytona-winning bike will be on display before lapping the raceway at race pace, ridden by Andrew Stroud.
THE POSSUM BOURNE PROJECT
Where Merchandise Alley
When All three days
The Subaru of Pukekohe's favourite son, the late Possum Bourne.
SUPPORT CATEGORIES
NZ V8 Sedans will take to the track for their 2013 season finale. Old races against new when new generation cars take to the circuit at the same time as the original Ford and Holden V8s, both fighting for separate titles in the same race.
Traditional American Muscle Cars will battle in their third and final round for 2013. Pioneering a new class manufactured between 1958-78, with innovative technical regulations, the series boasts the likes of Mustangs, Camaros, Toranas and HQs.
The fast and competitive NZ V8 Utes are sure to provide some fierce and door-banging racing in a Transtasman Challenge. In its fifth year as a championship category, 16 of New Zealand's top V8 Ute drivers will line the grid ready to battle for championship points and take on the Aussies.
Some of NZ's fastest cars will line the GT Sports Sedans grid. This will see a full field of cars with no power limits - ex-supercars against Transams, V8s against Turbos.