Wayne Bates got hooked on old cars when he was just 11, writes Jacqui Madelin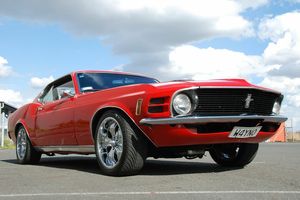 By golly this 1970 Ford Mustang sounds good when it starts up; the rich, rolling rhumba's pure testosterone and turns heads as we rumble through Hamilton's industrial back streets.
"You can't really beat an old car, they have a personality all of their own," Wayne Bates says. And this one hooked him young.
The 1970 Mustang, with its five-litre, eight-cylinder engine - 302 cubic inches in the old money - and three-speed FMX auto transmission, was his father's originally.
"I remember dad collecting me from intermediate when I was 11, and I was pretty excited being picked up in that."
He'd "caught the bug" and worked for mum and dad every school holiday, washing and grooming caravans and saving his money. "I bought it from him when I was 18. He didn't argue - I think he wanted to keep it in the family, it was our first classic car."
Back then it was deeper maroon, with Boss stripes. Wayne's had it painted rich red.
His family owns and runs caravan manufacturer Leisure Line.
"We had a guy who painted our caravans for us, we stripped it and he painted it. That's 13 years ago."
He also added the wheels, "which caused me a bit of grief. A lot of people thought I'd ruined the car, that I should keep the right-era 15-inch wheels on instead of these 18s which are a little fatter".
The changes "meant it was no longer dad's car, it was more an extension of me", but he's done little else. "When I bought it, it had been livened up - when you want it to get up and go, it'll get up and go."
Standard power was 224kW, but Wayne reckons it's now a smidgen more. "We've done a few little bits, things like reconditioning the auto, sorting the shifters out, we got some replacement seats, carpet and door lining in from the States and made changes to the exhaust and carb over time to get a little more out of it.
"It's got drum rear brakes and discs front, and the suspension's lowered, with Nolathane bushes and super-low springs to give a lower ride.
"I think it's a bit harder-riding but handling's improved."
Wayne now has his own family, three boys aged 6, 4 and 2, "and one on the way!" One of the cool things is that the boys are really into it.
"Any excuse and they want to hop in with dad and go for a drive."
Wayne has taken it down the drag strip, "it used to do low to mid-14s down the quarter mile", and he's let the Mustang loose at Pukekohe circuit and loved it, "not having to worry about the speed limit".
He'd like to go more often but juggling family and work it's hard to find time - and anyway, for Wayne his cars are a family pastime. "My sister, mum and dad and I used to do heaps revolving around the car - picnics and runs, it's more a family thing than a petrol-head thing."
He belongs to the Mustang club, and attends events with the family.
"We went to Americarna in new Plymouth, which was magic - it's becoming a lot more family-oriented, and it's not as rare to see American muscle cars as it was 10, 15 years ago."
Driving the Mustang is, as with all old cars, definitely an experience.
'They have their own squeaks and rattles. I think a classic is the most enjoyable drive you have, and the best stress relief as it takes you back to a simpler time when it was just you, the car and the road.
"Cars now, with ABS, stability and traction control, you're just a steerer [but in] the old cars you had to be a driver as well."
With three kids already eyeing up dad's Mustang he'll need to add to his collection.
"Dad has a great Galaxie I'd buy off him and I wouldn't mind an AC Cobra. And I've got a 1967 Mustang convertible ... I was lucky I could talk my wife into the convertible ... I hope she drives it heaps ..."