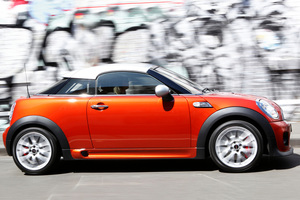 It doesn't get much better than Goodbye Pork Pie. It's the perfect Kiwi road movie, dripping with our humour, and takes in almost the whole country.
I drag it out for an annual viewing, and it never fails to deliver, despite knowing exactly what's coming around the next corner.
Imagine the sheer joy of belting through a railway station in a car that - at the time - was a mere fraction of the size of almost everything else on the road.
Take that Mini to Invercargill? Why the hell not? It was a '78 British Leyland Mini, one of three that were used in the movie. Two went back to the old New Zealand Motor Corporation in one piece and the other ... well, we all know what happened to that.
The legendary run to the deep south is happening again, and Driven will be along for the ride, fortunately not in a ropey old Mini 1000, but in the latest Mini Roadster - markedly more comfortable, and with a turbo engine that's not going to struggle up steep hills.
Anyone who has owned a Mini will tell you, they're a joy to own - mostly - but can be a total nightmare.
The ability to go through puddles without coming to a grinding halt is a massive advantage in the modern machine, as is the power to crest a judder bar without finishing up crawling around the road on all fours looking for a sump plug.
And the scope for back seat shenanigans? I'm sure it hasn't changed much, but can't testify to it. (Please don't email us about the legitimacy of this statement, we really, really don't want to know.)
The event this year will benefit nominated charities - the task is to raise money "by any means possible", and kicks off in Kaitaia on March 28.
After 2500km, and probably a few pies, the Mini faithful will, all things going well, railway station escapades and the constabulary notwithstanding, roll into Invercargill.