Getting a good start is important at Harrisville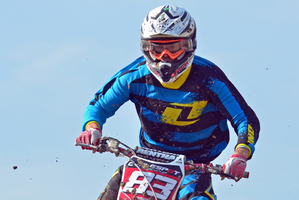 A contingent of Pukekohe riders will be hoping that local knowledge will turn a good season into a brilliant one when the third round of four in the New Zealand Motocross Championships hits the popular Harrisville circuit, near Pukekohe, this weekend.
Pukekohe Motorcycle Club riders James Ainsworth, Shaun O'Connor, Daniel McNeil, Bryce Dragt, Joel Trappitt and Tony Cooksley are six of the best from their region and each has high hopes of moving up the series rankings when the racing wraps up at Harrisville on Sunday afternoon.
Ainsworth races in the premier MX1 class - led by Kiwi international Cody Cooper, of Mount Maunganui, with Scottish visitor Billy MacKenzie and Australian invaders Todd Waters and Kirk Gibbs filling out the top four - and he knows he is up against some real heavyweights in this class, which is laden with fulltime professionals.
But that hasn't dampened his enthusiasm for the battle this weekend and he'll be looking to move up from his present No14 spot.
"I'll be a little disappointed if I don't finish among the top 10 this weekend," said 20-year-old Ainsworth.
"I know I can run the pace to be up there, especially around Harrisville. I've been racing at this track since I was about 8, so that's a few years now.
"Getting a good start is really important at Harrisville.
"Fast lines form on the inside of corners and it gets quite rutted, then gets hard-packed late in the day. I will really need to be on the ball."
O'Connor, McNeil, Dragt and Trappitt all race in the 125cc class and they are positioned eighth, 14th, 22nd and 24th respectively after two rounds.
Trappitt did not race at round one near Timaru, so his catch-up mission is even tougher than most.
Cooksley races in the non-championship MX3 class.
Pukekohe club rider Kurtis Lilly will not be in action after hurting himself in the second round near Morrinsville a fortnight ago.
Racing at Harrisville on Sunday begins at 10am. The series wraps up in Taupo on March 31.