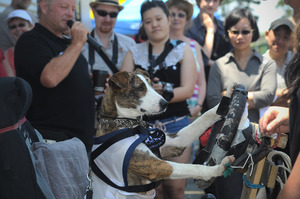 Popular British motoring show Top Gear is filming on Ninety Mile Beach next week, with a car set to rocket along faster than the speed limit on the open road.
As a result, the Far North District Council is shutting off all access points to the beach for the duration of filming, due to cars travelling at speeds up to 150km.
It will be closed between 12pm and 5pm every day next week so filming can be carried out with flexibility.
The SPCA's driving dogs will also reportedly be making an appearance on the show.
SPCA chief executive Christine Kalin said the organisation was working with Top Gear researchers and the final details of filming were yet to be confirmed.
"We are flattered that Top Gear has recognised the efforts by all involved to show just how intelligent SPCA dogs are and we hope that even more people consider adopting one of their own as a result," she said.
The BBC-produced show is the world's most widely viewed factual television programme.
- nzherald.co.nz with Newstalk ZB