Hartley's sizzling Daytona form opens door to a busy season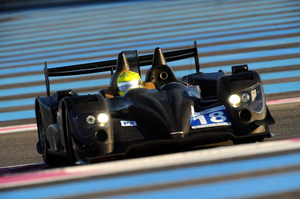 This time last year, racing engagements were a bit thin for former Red Bull Development driver Brendon Hartley.
Sure, he was gainfully employed, and an integral part of the Mercedes AMG Petronas Formula One team, as a simulator driver.
But it doesn't matter how much you contribute to the development of a successful race car through computer chips, driving the real thing on a real race track is all racecar drivers really want to do.
However, his contribution to the development of the F1 car was rewarded when the New Zealander was handed the keys to it at a test at Magny-Cours, France, last year.
"It [a Formula One car] was quicker than I remember it, but I felt a lot more prepared than when I was only 18," said 22-year-old Hartley.
"There's still a big difference [between simulator and car] ... in the simulator when you crash nothing happens so you lose that fear and there's nowhere near as much force on your body."
Last year, Hartley raced at his first Le Mans 24-Hour for Murphy Prototypes, where at one stage the team were leading the LMP2 class until a mechanical failure ended their chances.
That was about it for the year in respect to track time until he got the call to race at the Daytona 24-Hour, and now things have taken off racing-wise.
Because of a standout performance where Hartley was setting the same lap times as the number one car, he has been signed to a full-time gig.
Starworks Motorsport's principal Peter Baron has been so impressed with the rookie endurance driver, and the pace he's shown when the car's working that he's got him on board for the rest of the US Grand-Am Rolex Sports Car series.
"I'm really happy about this as you can imagine," said Hartley. "They were pretty impressed with my speed at Daytona, and I'm now back for the whole season."
The championship is well respected in America and Europe and many of the big name and very successful endurance drivers take part. It's the world's number one sports car championship and is promoted by Nascar and has a big following.
"It's a pretty big thing to be involved in and it's a big opportunity for me. I'd done enough for them to want me to come back and do the season and I'll be driving with Scott Myer.
"It's all new to me so I'm just going to go there and take it as comes, just enjoy it and make the most of it," said Hartley.
Among those who don't follow endurance racing, there is a perception that drivers are circulating at around 90 per cent.
Nothing could be further from the truth. The cars are strong enough to be hurled around the track at full noise right on the ragged edge, meaning the drivers are also at full capacity - for hour after hour with no let-up.
"We're not just driving around on a Sunday afternoon, it's pretty serious stuff," said Hartley. "It all just seemed to click for me racing endurance sports cars ever since my first race at Spa where we finished on the podium.
"It was with a new team [Murphy Prototypes] who had never raced before and it opened a few eyes.
"I'm enjoying it probably more than anything else I've ever done, bar testing a Formula One car. I really love the racing and I've entered the category at the right time as it's really taking off in Europe. There's a big fan base, a lot of manufacturers enter cars and here are some really good drivers taking part."
With his F1 duties as well, Hartley's dance card is nearing full. Added to the dual workload is all the travel involved having to fly back and forth across the Atlantic.
"I'm going to be busy that's for sure. I've got 12 more races in America and I've been confirmed for this year's Le Man 24-Hour as well as the F1 simulator work.
"I love my job and it's a lot of work. Not many drivers get the opportunity as a day job to work on a simulator. I'm always learning something new and developing as a driver so that's a big positive as well."
You'd have to say Hartley is the perfect example of how when one door closes another will open - if you're good enough.
Hartley proved he was fast in open wheelers and he's already shown he can mix it with best in sports cars. It would appear the young man is on the cusp of probably making a hefty mark in his new adventure. His first hit-out is this weekend at the Circuit of Americas, Austin, Texas.