Young Kiwi hopes Porsche GT route will lead to F1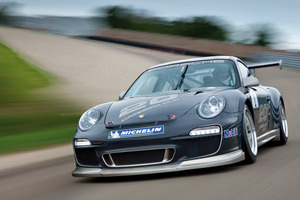 There's been a pretty big change in my strategy for the next couple of years. Richie Stanaway is known as a rising single-seater driver - but the Tauranga 21-year-old will be under a European tintop racer soon.
Forced to sit out the year following his crash at Spa-Francorchamps, Belgium, in his debut Formula Renault 3.5-litre season, Stanaway's management team - Gravity Sport, headed by Lotus F1 principal Eric Boullier - is about to confirm he will be contesting the Porsche Mobil 1 Supercup.
The Porsche series runs as a support act to the Formula One championship. Drivers compete in identical Porsche 911 GT3 Cup cars based on the Porsche 911 Carrera. On average, 24 cars take part in each race.
"There's been a pretty big change in my strategy for the next couple of years," said Stanaway. "My management still believe in my ability as a driver and rather than re-invest in me racing World Series by Renault or GP2 - the level I was before my injury - it looks like I'll be doing Porsche Supercup."
This will be his first foray into sportscar racing with a possibility of heading to endurance racing.
Stanaway insists this change of direction doesn't mean the end of his ultimate goal of getting into Formula One. It's just a different route.
"You just have to look at Paul di Resta and how he got into F1. He was quite frustrated being taken out of Formula Three and put into DTM by Mercedes but went on to win the championship in 2010. On the back of those results he was drafted into F1.
"Considering I'm still under management by Lotus F1 there's no reason to think I couldn't make it, either.
"It's going to be a different strategy over the next few years and it's a unique challenge I'm looking forward to."
Racing in a saloon is quite different from single-seaters but Stanaway has proved he's a master at jumping into a car he's not familiar with and doing well.
A few years ago he piloted a Toyota Racing Series car for the first time at a V8 Supercars meeting around the Hamilton streets. He won and set the lap record.
"It's a different discipline and requires a different repertoire of skills behind the wheel," says Stanaway. "It's something I find quite exciting. It looks like I've been given a job to do this year and when it's confirmed I'm going to focus 100 per cent on that.
"It's the same old story - if I want to progress it's all about results. I need to win races and fight for the championship."
He'll have a hell of a fight on his hands if Stanaway lines up at the Spanish F1 Grand Prix meeting at Barcelona in May. No matter how much experience he has in a single-seater, racing a GT car is a different story. So is the level of competition.
"I'll be up against a lot of guys who've had a lot of time in these cars and I won't have had a lot of time either in the car or on some of the circuits. I'm just going to have to do my best and secure some good results."