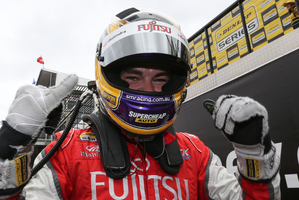 As far as auditions go, it doesn't get much more demanding for a 16-year-old aspiring motor racing driver.
Scott McLaughlin was ushered into a V8, a car he had no experience of, and told he would have a contract with Stone Brothers Racing to compete in the V8 development series if he could beat a certain lap time by the end of the day. It was a demanding target but one the immensely talented McLaughlin achieved before lunchtime.
It happened after McLaughlin finished fifth at the 2009 go-kart world championships in Italy. He received a call from Ross and Jim Stone inviting him to test one of their cars.
"At the time I was only 16 and I thought, 'that's pretty mad'," McLaughlin remembers. "I would love to do that.
"I knew I had to go out there and be calm, not put a foot wrong because if I did I would be out on my ear. I think Ross thought I would get the time but not that early in the day so we kept going and I went about half a second quicker.
One lap started my career."
It's still a career that is in its infancy but the 19-year-old has proved he was worth a punt. Last year he won the V8 SuperTourers and the second-tier V8 Supercars Series championship. He also finished sixth and first rookie and first Kiwi home in the Bathurst 1000 and was 17th in his first solo V8 Supercars debut in Sydney starting from 28th.
On top of that, he is the youngest driver to race a V8 Supercar after making his debut in 2010 aged 16 - eclipsing the record set by fellow Kiwi Shane Van Gisbergen .
He will make the step up to V8 Supercars fulltime this year with Fujitsu Racing GRM in a Holden when the series gets under way at the Clipsal 500 in Adelaide at the end of the month but this weekend will start the defence of his V8 SuperTourers crown at Hampton Downs.
"It's been a huge step, a huge journey, and three years on after having that test, to be running in the V8 Supercars this year and having all this attention and being part of a blue chip brand is a dream come true," he said.
"But the main [V8 Supercars] series is twice as hard. Everyone in the series is good. They know how to drive and you have to be on the ball. It's going to be tough. I have been winning the last few years but I just have to remember I am a rookie again and I need to learn. I need to take the blows but you have to take the blows to get success."
He's also expected a few nudges from a few of the more experienced drivers on the grid keen to test him out.
"I am waiting for a few hits but I have to stand up for myself out there. I'm not going to be afraid to give it back if I need to."
He did that to his mentor and friend Greg Murphy in the V8 SuperTourers last year with the four-time Bathurst winner coming off second best.
McLaughlin has turned to Murphy for advice on all aspects of racing, on and off the track, and one of the things he is having to deal with is comparisons to Van Gisbergen. It's something that rests easily with him, for now.
"I always based myself on him," said McLaughlin, who is targeting a top-15 finish in the overall Supercar series. "I'm a young guy, V8 Supercars, same as him, Kiwi. It's pretty cool in a way but I want to be my own person.
"I'm just loving the fact people are rating me as a driver and I just want to keep that going."
The way things are heading, there's every chance of that.
- APNZ