Impressive Aussie makes a stunning debut, writes Andy McGechan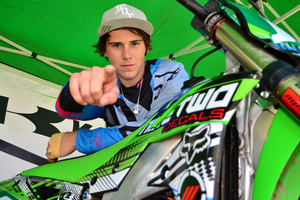 Although it was the first appearance at the big annual New Zealand Motocross Grand Prix at Woodville for visiting Australian Jesse Dobson, the Kawasaki ace proved he was a very fast learner.
The 15-year-old from Mooloolaba, on the Sunshine Coast of Queensland, made his debut at Woodville a week ago a memorable one, winning three races from three starts as he dominated the 14 to 16 years' 250cc class, setting himself up for a solid summer of racing in New Zealand.
"I'm not permitted to race senior class in Australia until I'm 16, which means I have to wait until March, but by coming over to race at Woodville I could get to race the top juniors on the Saturday and then the seniors on Sunday," said Dobson, who also managed an impressive seventh overall in the international talent-packed 40-rider senior MX2 (250cc) class the following day.
He finished 10-8-8 in his three senior MX2 races at Woodville, a tough introduction to the senior ranks and perhaps a stern warning of what he can expect when he tackles the four-round New Zealand senior motocross championships which start near Timaru on Sunday.
After Timaru, the series continues at Patetonga (February 24), Pukekohe (March 10) and Taupo (March 31).
Visiting world MX2 No4 Jake Nicholls, Britain, won the MX2 class at Woodville but that was his sole appearance in New Zealand this summer and so he won't be staying to contest the Kiwi nationals. This might leave the way clear for Woodville runner-up Scotty Columb (JCR Yamaha Racing Team YZ250F), of Queenstown, or the third-placed man, Hamilton's national MX2 champion Darryll King (Fox DC Fuzion Yamaha YZ250) to contest the title.
There are 10 to 15 riders in contention for the national MX2 title this season, with national No3 Rhys Carter (Moto City Suzuki RM-Z250) and national No.4 Peter Broxholme (JT Racing Castrol Honda CRF250), of Tauranga, among the leading contenders. Dobson figures he may be able to step up and match these men in Timaru this weekend.
"This trip allows me to get in some really good practice for the longer and tougher races that I will have to deal with in the senior ranks in Australia," he said.
"I think I have the speed but it's nice to be able to give my strength and stamina a bit of a workout.
"If I had stayed at home, I would not have had any racing to do before the Australian nationals kick off so this trip has been great for me."
Although he dominated the junior ranks at Woodville, Dobson didn't have it all his own way, having first to battle past fast-starting Kiwi riders James Anderson (AFC KTM 250SXF), of Levin, and Hayden Kanters (MGM Kawasaki KX250F), of Otorohanga. But, once in front, Dobson seemed untouchable. "I was a little surprised with how easily I won in the end but then dad told me I need to be a lot quicker than this to beat the seniors in Australia.
"I have been training very hard ... cycling, running, doing gym work and skipping. I ride six days a week too.
"My aim is to be the next Ryan Villopoto (the Kawasaki rider who is No1 on the American supercross scene) or at least to be the next Chad Reed (Australian international motocross legend)."