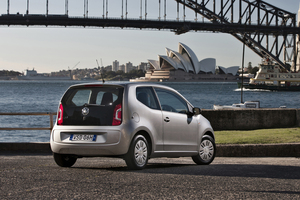 Volkswagen New Zealand won't be adding the supermini hatchback Up to its line up any time soon after evaluating the car late last year.
The hatch, officially called up!, was launched in Australia last year as a three- and five-door with a 1-litre three cylinder, 12-valve petrol engine, which produced 55kW at 6200rpm and 95Nm of torque. It came with a five-speed manual gearbox.
In Australia, the car was priced from A$15,990 but according to Volkswagen NZ, the company couldn't get the pricing right to make it feasible to import here.
Instead the company has concentrated on promoting the Polo hatchback with the five-door hatch priced from $20,990 during a "summer sale".