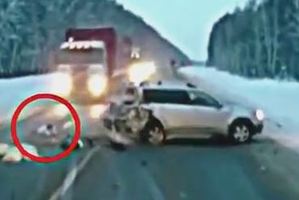 A dashboard mounted camera has captured the dramatic moment a one-year-old girl was thrown from her parents' car and almost hit by an oncoming truck in Russia.
According to a report by Russia Today, the driver of the girl's SUV was overtaking on the icy Moscow-Ufa highway when it went into a spin while overtaking, before hitting an oncoming truck.
Unrestrained, the girl was thrown from the vehicle, along with many of the family's belongings, landing on the opposite lane.
Moments later another large truck narrowly avoids hitting the child, before her parents dash across the road to collect her.
The girl was hospitalised with a head injury, RT reported.
Police told RT that on the stretch of road where the incident occurred it is illegal to overtake.
The girl was not restrained in either a baby seat or regular seatbelt, instead she was asleep in the boot of the car.
The clip was uploaded to YouTube by user groshkin1983 on January 23.
Many Russian motorists opt to fix cameras to their vehicles for insurance purposes.
- nzherald.co.nz