Paul Charman concludes that cheeky, low-cost mopeds deserve their cult status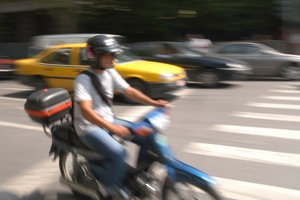 Moped riders get elbowed into the weeds, glared at for slow take-offs and resented for a flat-out top speed of about 50 km/h. But they laugh at other road users for several reasons. Many of these 50cc shopping baskets get in excess of 50 km to a litre of petrol, while - at $165.50 for 12 months' road use - mopeds enjoy the cheapest annual re-licensing fees of any vehicle.
A moped does not need a warrant of fitness and may be ridden by a person holding a car licence, but like a motorcycle it can legally use the bus lanes and park for free almost anywhere.
About 150 mopeds are being registered each month, compared to about 100 motorcycles sized 401cc to 750cc.
True, moped registrations dipped slightly over the past 18 months, with Motor Trade Association spokesman Ian Stonach giving two possible explanations. Motorists may have become used to the increasing price of fuel, Mr Stonach suggests, while implementation of the Learner Approved Motorcycle (LAMS) Scheme has expanded the range of bikes which may be ridden on a learner licence.
Learners are no longer stuck with bikes sized up to 250cc and, if their machine meets the criteria, a learner may now choose a motorcycle up to 660cc.
But despite this, low-cost mopeds remain the single most popular bike category by a long way.
What, then, is a moped, and how is it different to a motorcycle?
Many years ago the term was used to describe a tiny motorcycle with pedal-power to boost an underpowered and temperamental engine, but today most mopeds look exactly like small (50cc) scooters.
Up till about May last year, mopeds were defined as vehicles which developed no more than 2 kW.
The new definition is a machine which has a motor up to 50cc and can't go faster than 50 km/h.
NZ Transport Agency National media manager Andy Knackstedt says the amendment made it easier for police to determine at the roadside, without specialist measuring equipment, whether a vehicle is a moped or a motorcycle.
Though Andy did not express it quite this way, it's a lot easier for a copper to clock a scooter breaking the speed limit than it is to give them a dynamometer test at the side of the road. A 50cc motorcycle - actually defined as a bike 0-60cc - is an entirely different beast in the eyes of the law.
It will need a bike licence to ride, needs a warrant of fitness and costs more than twice as much as a moped to register annually, a whopping $395.61.
But technically, it is allowed to travel as fast as any other vehicle on the road.
However, once purchased, some mopeds don't stay limited to the 50km/h limit for long.
They are quietly sent back to the workshop to be "de-restricted".
These machines seem to have been manufactured with de-restricting left as an option.
It takes less than 15 minutes to make a simple adjustment to the electrics and remove a washer from the exhaust.
De-restricting generally improves acceleration and torque and raises the top speed to 70km/h or so, changes which arguably make these machines safer in traffic.
Of course, these modifications also technically transform a moped back into a 50cc motorcycle.
The huge disparity between the cost of registering a moped and a 50cc motorcycle is because the moped is subject to an ACC levy of $129.24, while the motorcycle shares the same $327.70 annual ACC levy paid by all petrol-powered motorcycles up to 600cc.
Nobody seems to know why 50cc motorcycles were lumped in with the bigger bikes this way.
ACC senior media adviser Stephanie Melville admitted there is no evidence people have fewer crashes riding mopeds than riding motorcycles sized 0 to 60cc.
But Ms Melville adds that a key factor in the severity of crashes, and costs of injury claims, is that they rise in line with engine size.
"This is due to the speed of travel and their use on the open road.
"As mopeds have a maximum design speed of 50km/h, they tend to be used in urban areas at lower speeds, and the crashes they are involved in tend to be less severe. This pattern is reflected in ACC claim costs, which are much lower for mopeds than (all) motorcycles."
So mopeds are perceived as the low-speed "good guys"of the motorcycle world. And even if some are quietly transformed into something a little more lively, for now that's something the authorities seem prepared to wink at.
A moped does not need a warrant of fitness and may be ridden by a person holding a car licence, but like a motorcycle it can legally use the bus lanes.