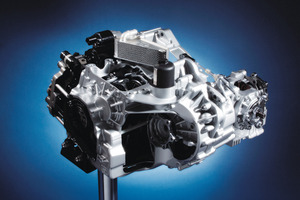 The dilemma
The budget:$15,000
Graham is looking to update his wheels and is unsure whether to stick with a vehicle with a manual transmission which has served him well for many years or move to an automatic.
"Much of my driving is in peak hour traffic and I am tiring of the constant need to manually change gear" says Graham.
But he has heard conflicting reports on the different automatic options that are available.
"I have read both positive and negative comments on constant variable transmission (CVT) and the direct-shift gearbox (DSG) which seem to be fitted to many of the vehicles I have looked at. What are the pitfalls and faults to look for and what are the benefits with these transmissions?"
As our roads become more and more congested automatic transmissions have certainly become the preferred choice for the majority of used and new car buyers.
To help accommodate that demand and with the global drive to reduce fuel consumption and tail pipe emissions, transmission design has come under as much scrutiny and change by manufacturers as the engine itself in recent years.
Improvements have been made to the traditional hydraulic auto, with additional gear ratios and lock-up toque convertors added to help reduce fuel consumption and improve the engine/transmission relationship.
But the transmission itself has retained the same basic design principals and weaknesses. The weak point is the amount of energy lost from moving or rotating parts within the transmission and torque convertor. With a manual transmission there is no such energy loss, with a direct drive to the road wheels once the clutch is engaged. The end result is better claimed fuel consumption.
The challenge for manufacturers in recent times has been to refine the automatic transmission and improve the fuel consumption figures. While the effort by manufacturers' R&D teams focused on a common goal, the ways they go about achieving a positive result can be very different.
Some have continued to improve the traditional automatic; others have placed a heavy commitment to alternatives such as the CVT and DSG transmissions.
The basic working principles of both these transmissions have been around for many years and like all things new, no amount of in-house testing can identify all the weaknesses and problems that can develop once mass production has started and vehicles are in the hands of the buyers. They in effect, become the long term test pilots.
History has shown that there are always on-going refinements and modifications with any new technology which help improve long term performance and reliability. The auto transmission is no exception.
Sometimes being an early adopter of any new technology can mean on-going frustration while initial niggles are sorted out. Recommended modifications can also be expensive if carried out once a vehicle is out of warranty. The bottom line is older and cheaper vehicles fitted with such technology are often simply best avoided.
Traditional Hydraulic/Electronic Auto Transmission
Has been refined over the years including with the addition of extra gear ratios plus the option of manual shifting.
Advantages - Basic and well proven design over many years.
Disadvantages - Set number of gear ratios and gear changes can be harsh at times. Design is not conducive to achieving improved fuel consumption.
Constant Variable Transmission (CVT)
Operates on a variable pulley and chain (or rubber belt) system.
Advantages - Provides infinite gear ratios and enables the engine to operate within its most efficient rpm range, resulting in improved fuel consumption. Is used by a growing number of manufacturers. Don't be put off by the initial "feel" of the shift pattern. Once mastered, it's not hard to become a real fan and believer in this technology.
Disadvantages - Expensive to repair (earlier versions may be deemed un-repairable). Carries baggage from known problems with earlier models. Towing weights may be reduced in comparison to the traditional autos.
Direct Shift Gearbox (DSG)
Basically a manual transmission without a clutch pedal. Transmission can pre-select gears which reduces shift change times. Used mainly by European manufacturers.
Advantages - Fast and crisp gear changes result in less energy loss and improved fuel consumption.
Disadvantages - A very complicated and busy transmission in which the built-in electronics are constantly thinking ahead to predict which gear to pre-select next. Expensive to repair and, like the earlier CVT's, not without its teething problems.
Our recommendation in your price bracket
Older vehicles (6-7 years old as a general rule) - stick with the old traditional auto or a manual transmission.
Seek the advice and inspection of your local transmission repairer regardless of transmission fitted before committing to purchase.
Note: Fuel consumption benefits are largely determined by how a vehicle is driven not necessarily by the type of transmission fitted. The latest transmission designs help a smooth driver to achieve improved consumption figures.