Concept electric coupe could join new family of i3s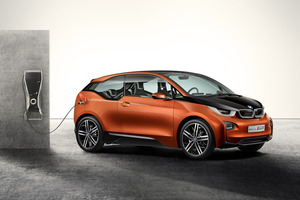 BMW launched a concept all-electric i3 at the Los Angeles motor show this week, as it pushes for "sustainable premium-class motoring with zero local emissions".
The German company has not said if the coupe will go into production alongside the five-door i3 slated for launch in Europe next year, but said it "demonstrates the potential for conceivably extending the model range".
While BMW Australia has committed to the i3 petrol-electric hybrid there is no word from BMW New Zealand.
The i3 Concept Coupe is described by BMW as a "particularly nimble and emotive" version of the i3, indicating it is likely to be the sportiest of the potential i3 family.
It carries the unmistakable "stream flow" styling of the "i" cars shown to date, although with changes around the window line, and uses the same breakthrough carbon-fibre-reinforced plastic construction for light weight and strength.
BMW Germany says the Concept Coupe has a broader, lower-slung look when compared with the production i3.
Interestingly, the three-door concept is 119mm longer than the original concept of the five-door version, at 3964mm, as well as considerably narrower at 1768mm - down 143mm from the original's whopping 2011mm. It is also a few millimetres taller, at 1555mm high.
The changed proportions might reflect the flexibility of the so-called LifeDrive architecture for the i3 range, which BMW has said from the outset will spawn a family of electrified vehicles under its 'i' sub-brand.
The architecture is built in two units - an upper passenger cell called the "Life" module, sitting on the "Drive" module that holds all the electrical and mechanical bits.
Despite its outward changes from the original i3, the Concept Coupe has an identical 2570mm wheelbase to the five-door model, and employs the same all-electric powertrain with 125kW/250Nm electric motor driving the rear wheels and drawing power from a lithium ion-battery under the floor.
The vehicle's range is claimed to be up to 160km on full charge.
A four seater with only two "lounge-style" bucket seats in the back, the Concept Coupe is said to provide a sense of spaciousness, thanks to a bigger glass area around the back of the boxy i3, compared with conventional coupes.
The side windows are frameless, with no B-pillar to block the view, and the side rear window not only dips lower along the waistline but continues to the rear-most pillar, opening up the side view for rear-seat passengers and - importantly - the driver.
The vehicle gets all-digital instruments with a contrasting moulded eucalyptus blonde-wood insert weaving across almost the entire width of dash.
BMW says most of the interior fittings are from renewable materials such as wool, leather and wood.