The VW Beetle is back with fewer curves but is bigger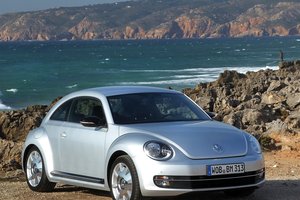 The Beetle is back - but this time it's lost the pronounced curves and that dinky flower and vase on the dashboard.
In New Zealand showrooms from mid-December, and priced from $46,500, the new generation Beetle has been completely redesigned.
The Beetle has a lower profile and is substantially bigger - sporting a wider chassis, a longer front bonnet and a boot that can handle up to 905 litres of luggage.
"Generations of Kiwis have grown up with the Beetle, the much-loved classic that has won hearts over for six decades now. Today, the 21st century Beetle marries that nostalgia with innovation, creating a dynamic car for today's driver," said Tom Ruddenklau, Volkswagen New Zealand's general manager.
From 1938 until 2003, 21.5 million Beetles were sold before the New Beetle (with its distinct curves and flower) was launched in 1998 - the last model manufactured in 2010.
The latest Beetle comes a 1.4 litre TSI Supercharger and turbo petrol engine produces 118kW of power providing optimum driving performance. This combined with a seven-speed DSG automatic transmission enables convenient gear shifting with uninterrupted power while also making a significant contribution to reducing fuel consumption and emissions.
Inside, the Beetle pays homage to its roots: a compact instrument cluster with an eye-catching round dial in the centre evokes memories of the classic. Air vents and state-of-the-art infotainment features have been seamlessly integrated into the dashboard. The vehicle is also packed with innovation including climatronic air conditioning, front and rear parking sensors, a RCD 510 colour touchscreen stereo system, hands-free Bluetooth connectivity, an iPod adapter and 18-inch Twister Alloys. Options such as a Panoramic electric sliding tilting roof, Vienna leather upholstery or dashboard additions offer the driver the opportunity to personalise their car.