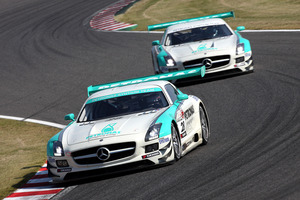 Kiwi Jono Lester is driving second for Petronas Syntium Team in a Mercedes-Benz SLS AMG GT3 in Japan. Photo / Supplied
After a less than fruitful time at Pukekohe two weeks ago in the second round of the V8 SuperTourers endurance series, Jono Lester is back in Japan for the final yahoo of the Super Taikyu Endurance championship.
Lester is driving the No2 car for the Petronas Syntium Team, hot off their first win of season last month at Suzuka.
"It's an amazing feeling to get my first win," said Lester.
"So many factors had gone against us over the season but we pulled together as a unit and really gave it our all to get the win."
He is second in the series behind the team's No1 car and is keen to get underway this weekend at the Autopolis track and try to leapfrog his team-mates to put himself in the top spot.
Racing in Japan is a little different from most other places - it's a place where the No2 car is supposed to be the No2 car.
Having done most of his racing in Australasia, Lester is of the mind that respecting your peers doesn't mean you shouldn't have a damn good go at beating them.
"My crew is great and work really hard but have been happy to play second fiddle to the No1 team.
"But now with that win we've shown each other we shouldn't have to settle for second.
"I think we have the package to go one better and Suzuka proved we could do it. We were quick the whole weekend in practice, qualifying, and in the race that was completed.
"It's created an interesting inter-team little battle as well, because the Japanese drivers in our sister car are sort of your Whincups and Winterbottoms of Japanese motorsport.
"They're the heroes and they don't like losing and can resort to a few dirty tactics to ensure that remains the case."
The young New Zealander got one over his perceived betters fair and square and this weekend should prove a very interesting tussle. The circuit should suit the Mercedes-Benz SLS AMG GT3 he'll be driving and bar any mechanical dramas, Lester may just pull another fast move over his more illustrious local exponents.
However, there may just a bigger fish about to enter the pond. Rumour has it that one of the most accomplished Porsche drivers in the world, and the man with the most wins in the German make, Craig Baird, may be making his way to Japan this weekend. It's been said that Baird is set to race a Ferrari 458 in Lester's class. If that's the case it will add a fifth manufacturer to the championship and Baird will certainly put the cat among the pigeons, which is no bad thing.
"If he does turn up this weekend it will be like the days of Porsche racing in New Zealand. The possibility of going up against him again very much excites me. We had some great racing back then and he was the one I learned the most off.
"I learned how to intimidate people and be a real racer and if he does rock up I'd love to meet up with him out on the track, that's for sure," said Lester.
Baird would certainly add an extra dimension to the last round of the Japanese domestic GT championship, but Lester may have the edge over his former sparring partner if the last round is anything to go by.