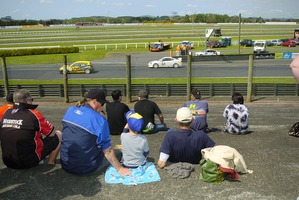 Babes and bogans were out in force at Pukekohe yesterday for the last big event on the current racing track.
The V8 SuperTourers this weekend attracted an upbeat crowd as the venue prepared for a do-up before the return of the Australian V8 Supercars in April.
Central Muscle Cars' driver Paul Stubber said he was excited about the return of the Supercars.
"It'll breathe a lot of life into Pukekohe."
He said crowds would compare with some of the biggest events in Australia if predictions of 130,000 materialised.
West Auckland spectator Dennis Hunt, stayed in Pukekohe overnight.
"You've got to be here. It's not the same as watching on TV."
Hunt was happy with facilities at the track. "Everything seems to work."
Hot dog vendor Bruce Turner said Pukekohe was unique and got racegoers closer to the action than other tracks.
He said having the V8s return in April was "magic" but parts of the venue were tired.
V8 SuperTourers chief executive Didier Debae said balmy weather and entertaining racing made for a "spectacular" Saturday.
He said Pukekohe's proximity to Auckland was one of its strong points.
Meanwhile, some neighbours were frustrated at racetrack noise. Ken Plowman said he supported motorsport but said noise was driving locals nuts.