Showrooms are coming to you.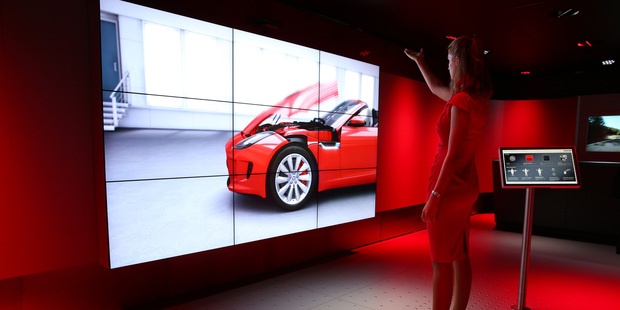 Fancy buying a new vehicle but can't be bothered wandering along a busy road, checking row after row of car yards?
Jaguar Land Rover is using advanced digital technology to offer its customers virtual "hands-on" access to its model ranges, allowing showrooms to be set up in any public space, such as a mall, and even on the side of a building.
The system, Virtual Experience, enables interaction with an almost 1:1 scale representation of any Jaguar or Land Rover model.
Using a touchpad screen, the customer can select model, equipment grade and feature preferences, which Virtual Experience renders as an ultra-high resolution, real-time 3D image and leveraging a ground-breaking five million polygons.
The customer makes natural and intuitive movements or gestures to explore all aspects of the vehicle.
The technology may be sophisticated, but the equipment required to present the Virtual Experience is simple and portable.
It requires a display screen and a laptop loaded with the system to operate. This means it can easily be set up in locations where there might not be enough space for a vehicle.
Virtual Experience featured at the Paris Motor Show, supporting the launch of the new Jaguar F-Type and Range Rover. It is being further developed to ultimately present the entire Jaguar Land Rover portfolio.
Jaguar Land Rover's Nathan Summers said: "Jaguar Land Rover offers customers an exceptional breadth of choice to tailor their vehicle. Virtual Experience presents customers with the opportunity to experience their personally designed vehicle in a very real environment.
Virtual Experience is an innovation and shows where we see the future of our technology development. We are putting the customer in control as well as seeking new ways to modernise and customise their experience when choosing their new Jaguar or Land Rover."